Went in the afternoon to Sewri today. Just after high tide and, the birds started to fly back in towards the water edge closest to us.
Harsh noon sun so not exactly great for photography.
Mud Skippers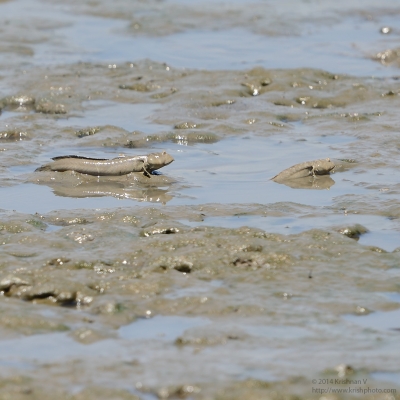 Sewri-scape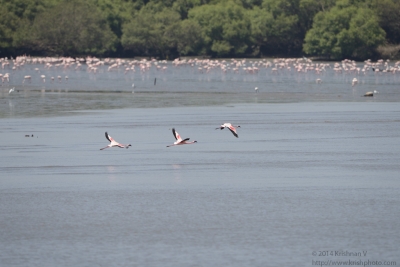 The regular shot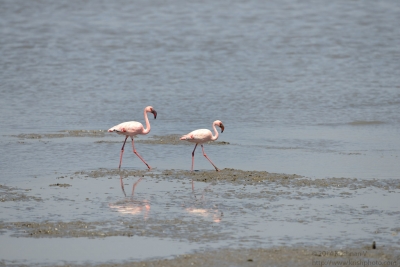 The not so regular shot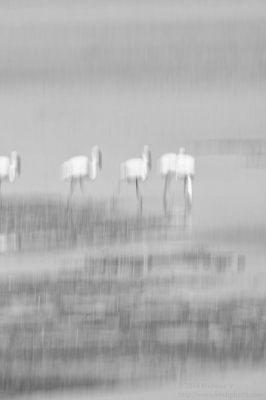 And grab a Phone wallpaper flamingo here below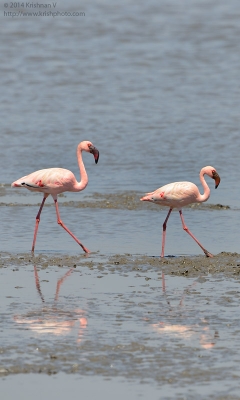 Rest of the pics here

"To see a Snow Leopard in the wild,  be prepared not to see it" – Krishnan
I think it was sometimes in school when I first read about Snow leopards, "the phantoms of the snowy mountains". Since then, there has been this desire to see them in the wild. I had made no effort as to fulfill that desire until now. The last two years, I had actually been planning on a Chadar trek. But the Chadar and the Snow Leopards were very much a toss up choice in my mind.
A month ago I got a call from Rahul if Id be interested in an exploratory trip to track some Snow Leopards in the Spiti Valley. I jumped at the offer. Keyword "exploratory" . The Chadar ( Zanskar River , Ladakh) I had already done albeit on a rafting & Kayaking expedition in 1990. Spiti was new area to explore, so Spiti it was to be.
Day 1 – 26 Feb  2014 (Mumbai- Chandigarh- Narkanda – 173 Km )
We started on a flight landing into Chandigarh. Hopped into two vehicles and scooted to Narkanda. Reached Narkanda about 6PM and checked into our hotel. It was a super decision to have a halt here. Narkanda is is at 2708m (8884 ft) above MSL and would be a super point for the first acclamatisation halt. Also, it was snowing and the first exposure to the cold happened here. The woolens and jackets came out, as did the parkas & gloves. We grabbed an early dinner and got to bed for a very early start the next morning.
The roadmap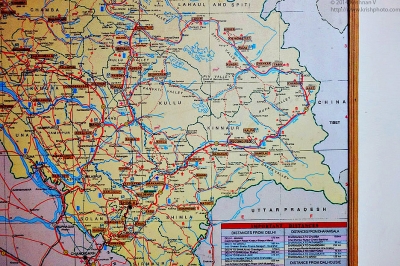 5 Am tea at Rampur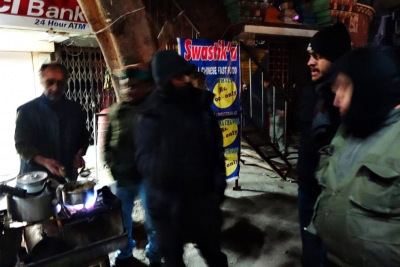 Day 2 – 27 Feb 2014 ( Narkanda – Nako – Spillow – Tabo – Kaza – 362 km)
Woke up at 2AM and got ready to roll at 3 AM. It was snowing and the weather did not look too great. We changed cabs and got into two TATA Sumos . This vehicle is the only prefered vehicle for this terrain. All the drivers swear by it. My driver wasKeysang. Wow ! What a guy. I bet he will beat Schumaker any day on these icy narrow scary himalayan curves. He swears by the Sumo ( more about this later). We had tea at 5 AM at Rampur. The reason we had to start early was that the Rampur – Pooh route was prone to many landslides and roadwork which could result in huge delays. The rad gands would start work by 10 AM and if we had cleared the worst part in the morning, we would be good. Besides, in the mountains, an early start is the way to operate. Gives one some more hours of daylight to make use, incase needed. We crossed the mighty Sutlej and wound our way in bad weather ( snowing) across the stark barren mountainscape and reached Spillow. The road is a mess ( just a dirt track ) due to the big dam project.10 Am and we were hogging some wonderful paranthas and omlette with some hot tea. The "Bhojnalaya" lady was super efficient and rolled up the dishes super quick.
Spello or Spillow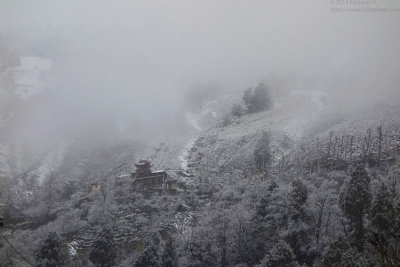 The Bhojanalay lady pouring tea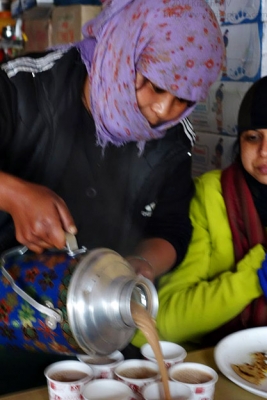 This is where I first pulled out my 300 + 1.4 TC combo on the Greater rosefinch that sat on the barren tree. There was also a White wing redstart  usually found much higher elevations but now found lower due to the cold and snow. I missed the Redstart while Rahul got it with his ever ready Canon SX50HS.
Greater Rosefinch in on a barren tree while snowing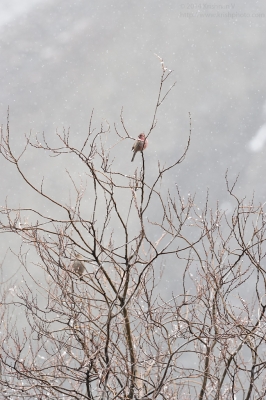 After Pooh, the road climbs up to Nako and crosses over into Spiti valley via the Malling nalla gap. We got a little stuck at Malling nalla pass (1330H) where the road  was icy and snowing. Keysang stopped the vehicle and we got help from another vehicle behind us to scrap sand under the wheels for traction. Finally we then made it safely across. All the drivers know each other and there is great co-operation when any vehicle is stuck.
Narrow road to Malling nalla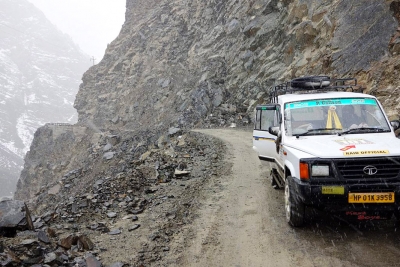 Stuck on the ice. Throwing sand to get some traction on ice.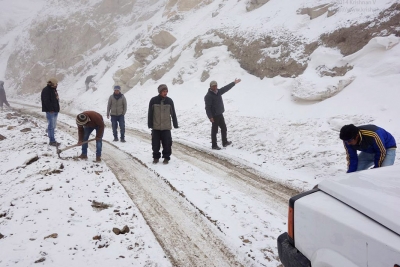 1600H we were at Tabo. The initial plan was to stay the night at Tabo but for some logistics reasons we decide to move on to Kaza the same evening. But before that, we were given some very welcome Soup & noodles with hot tea. These mountain folks were so welcoming into their homes. Much welcome hot lunch indeed.
Welcome hot noodle soup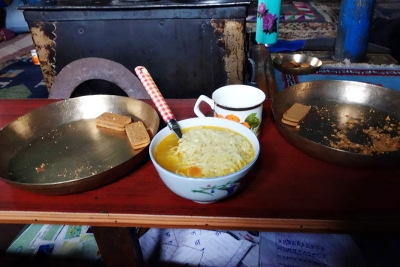 The Tabo – Kaza leg was a very snowbound and icy leg. We made it into Kaza at around 7 PM. It was now snowing hard and we had a tough time getting into our rooms. Luckily there was one room with a working toilet and that was assigned to the ladies. Next morning I expected headaches and nausea due to the altitude and acclamatisation. Kaza is at 3650m ( 11975ft) above MSL. All such places have dry toilets, a running toilet is an impossibility in the sub zero temperatures.
Finally reached Kaza at 7PM. We had been on the road since 3 AM !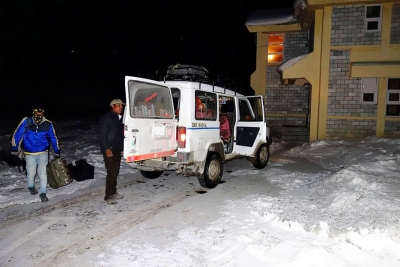 Day 3 – 28 Feb 2014 ( Kaza – Kibber – 19 Kms and a steep climb)
Sure enough woke up after a fitful sleep with a mild headache. I had low appetite and went on the check on my better half. Cold and frozen "supported with" nausea but, holding up was the report.I brought her a cup of tea which was promptly "thrown up". A disprin and  "Avomine" were administered. Such is the acclamatisation here. I too wasnt in the best of shape. I did have a mild headache and low appetite. All the same we pulled ourselves outside for an acclamatisation stroll in the still snowing morning. At about 10 AM we packed up again into our vehicles and started towards Kibber. It was to be an easy 19 Km odd climbing road. The first of the blue sheep  were encountered here.
Kaza Monastery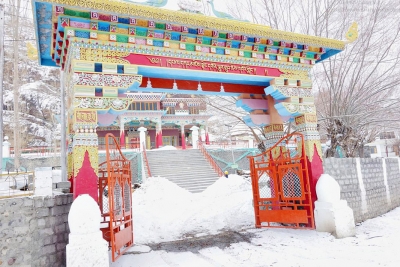 Highest petrol pump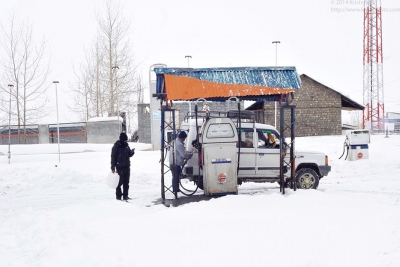 Blue Sheep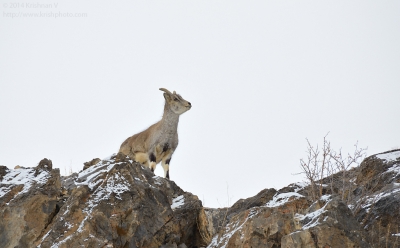 On the way, we stopped at the Kee Monastry. We got to see their not open to public, old archives and their precious tankhas which were hundreds of years old. We had hot tea & biscuits with the monks and got their blessings. The view from the monsatery rooftop was spectacular and the sun peeped out for a few moments in between. We rolled into Kibber at round 2 PM where Sheru, Lama & Sushil welcomed us into their village. The remainder of the day was 100% room bound and for rest. Kibber is at some 4100m or 13500ft above MSL
Kee Monastery in the snow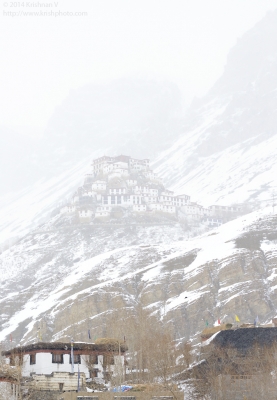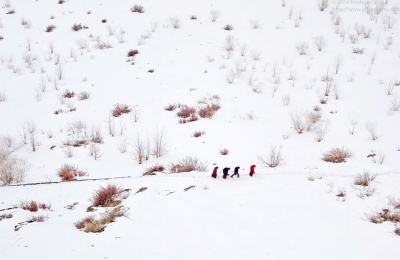 Day 4 – 01 Mar 2014 ( Hike No 1 )
We woke up to a clear day. All of us had slept lightly and were cold. However the overall acclamatisation process was going on well. BUt before we started, we had a small blessing ceremony by the local soothsayer. They call it "devta baitahna". Basically one person ( Kalzang)  goes into a trance and prophesises in pure tibetan language ( a language which he does not know when not in his trance) and his associate, Tinkoo translates. The Devta asked us to look in the Northern / North western direction for our goal which was where the trackers would look.
Kalzang (The Medium) & Tinkoo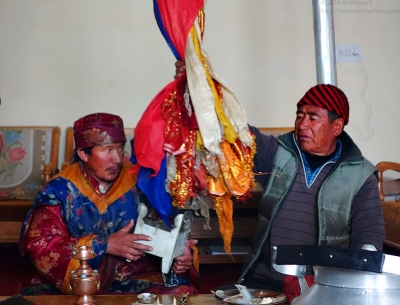 But for today, the plan was to hike down to the road below where some Ibex were spotted and the hike back. Some 4 Km route. The route down was ok , but the heavy snow the previous day made the hike back a really tough proposition. However with a lot of support and encouragement, everybody made it back. En-route we saw a red fox pair, a Lammergier and Ibex. The Ibex had got down into the gorge and we had to climb down through a vast snowfield to see them. I was operating the 300mm  with the 1.4TC on the D3. At one point I thought something had happened to the rear LCD, but it became Ok after a while. Probably condensation but, I am not sure.
Himalayan Ibex in the gorge below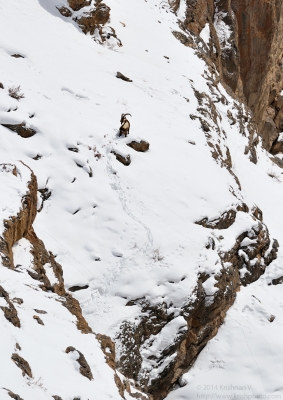 The snowfield that we had to cross to get to the edge of the Ibex gorge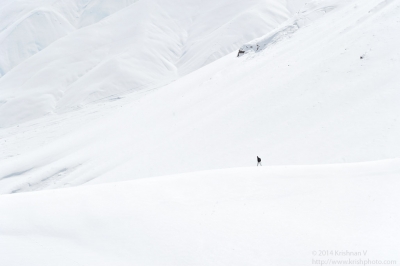 Day 5 – 02 Mar 2014 ( Hike No 2)
The plan today was to hike up to some 14500 feet above the village to scope for the Snow leopard. The ladies were too tired hence stayed back. The gorge above the village was a good place to sight the trackers told us. The weather was playing spoil sport and it was snowing lightly. In good weather , the cats come out to sun themselves, and, that's the best time to see them is what they told us. It seemed like a long time to climb the trail. Took up the better part of two hours whereas the locals do it in some 30 to 40 mins ! Plod-wheeze-stop and the cycle continued.I carried my 300 +TC combo and the 600mm lens was bagged. I didn't have any option or inclination to open the 600 in the bad weather & cold. It was hard enough just standing there. About 2 PM we turned back for the village.
Scanning the gorge for snow leopards

Day 6 – 03 Mar 2014 ( Hike no 3 )
We woke up to a clear and glorious day. After a wonderful breakfast with some amazing chutney & tibetan bread we started back up the mountain. This time we had organised two yaks for the ladies. The idea was to alternate walk and yak
Since the weather was clear, it was biting cold. I wouldn't be surprised if the temp ( combined with wind chill ) was in the minus 15 or there about. By 12 noon it was already getting too difficult to stand on the ridge. We decided to come back down due to the cold. However, Sushil had mentioned that we should stay on till evening. But, non of us felt we could stand in the cold, that long. Later when I analysed I think we would have had a fair chance to see a snow leopard had we stuck on. Oh well.. But, we did manage to see the Golden eagle and a few griffons.
Kibber sunrise panorama

Yak help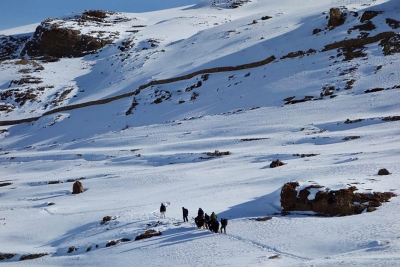 The shadow of the Golden eagle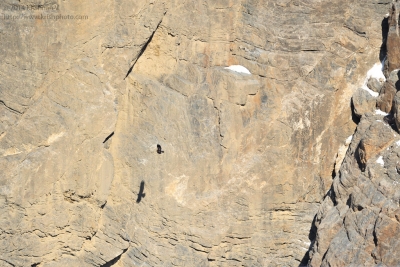 The Himalayan griffon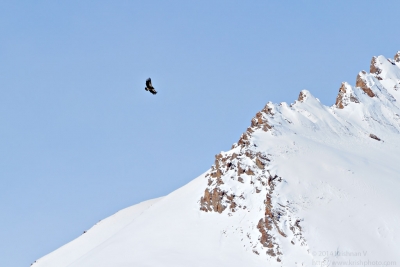 Evening the sky was clear and one could see the milky way. But, couldn't garner courage to get out in the cold to shoot star trails. Chickened out unashamedly !
Day 7 – 04 Mar 2014 (Hike no 4)
Bad weather and snowing, but we climbed back to the ridge. Our timing was improving and we made it inside 1hr and 15 mins. not bad ! The bad weather forced us back to the village early. The was also "Dachang" a local festival. A lot of feasting, drinking happens as does some bows and arrows which the kids love. The festival starts with the trance person blessing the village via his transient spirit that is supposed to have possessed him. Kalzang and Tinkoo were the stars of the day here !
My Northface Chilkat boots held up well.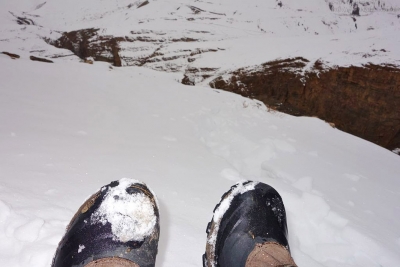 Dachang festival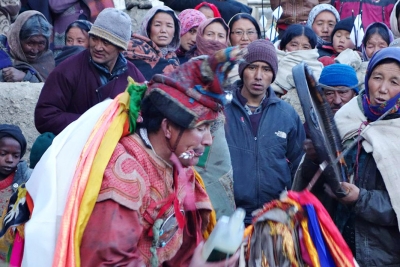 Day 8 – 05 Mar 2014 ( Hike no 5 & 6)
Wonderful breakfast and out to the mountain again. Bad weather again. Kalzang was brought in to prophesise. The spirit said maintain the northern & north western lookout. It was snowing but it began to clear up towards noon. The it again started to get bad. But in this all, Sushil spotted movement in the gorge below. By the time he handed the binoculars to Rahul, the Snow leopard had turned the corner and had vanished. Some of us managed to to get a glimpse of the "Grey Ghost". Finally something ! Sushil in his excitement, then went down all the way into the nullah ( gorge) to try to track the cat. It took almost two hours for him to get into the gorge. There he found tracks but, no snow leopard. The ghost had vanished. Meanwhile Kalzang had come running up the mountain to inform us of some sighting in a village 3 hours away. We decided to wait for Sushil to see if something could be tracked instead of rushing to this village. Good decision indeed. With no further luck, we turned back.
Bad weather on the ridge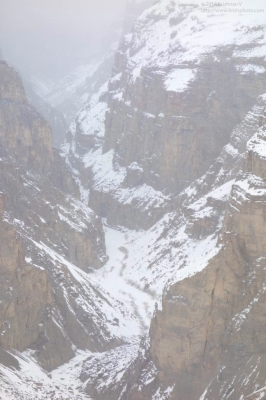 Back in the village Sheru & Namgyal  had made some amazing "Momos". They use "Gymen" an elm tree something to flavour. What taste ! We downed it with some of Namgyals super hot chutney. The chutney literally made one hot enough to take off one layer of clothing in the extreme cold ! Absolute rocket fuel it was. We liked it so much that we told him to make us some to carry home !
Momos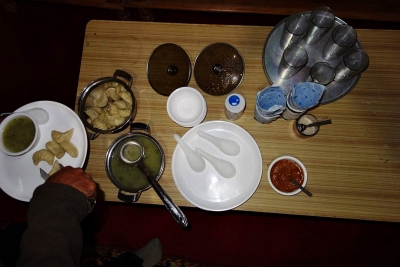 "Gymen" – the elm tree seasoning for momos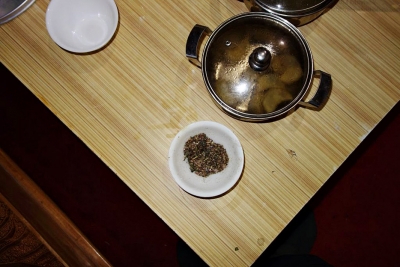 In the evening we got news that there were Ibex next to the road below and we suited up and plodded down. Just as we reached, Lamaji informed us that the local dogs had scattered then back down the steep gorge. Bummer. A quick evening hike but, no joy nad the hard work to climb all the way back. But we made it back in 30 mins which was super going ! The acclamatisation Id say at this point was pretty good !
Day 9 – 06 Mar 2014 ( Hike No 7)
We started early in Tenzing's vehicle for his village where the Snow leopard was sighted. Finally a clear day but very cold day. The Sumo was started by heating the fuel pipes with a kerosene stove. After three hours of ride, we got a very picturesque village and were given hot tea and biscuits at Tenzing's home. Some search by Sushil & Lama and it turned out to be a tibetan wolf and that too hidden in some bushes and hard to spot. We quickly got back into the vehicle and got back to Kibber.
Heating the fuel pipes with a kerosene stove.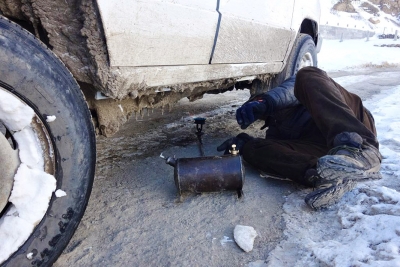 Wonderful hospitality at Tenzing our driver's home at Mane village. Real cosy room , hot tea &  biscuits. Lovely "namkeen chai" Salty tea a tibetan staple drink.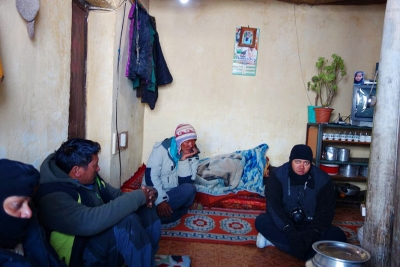 A quick lunch and we had our only chance. Sushil suggested we go back up to the ridge I was actually in two minds but, since it would be our last day before we left Kibber, decided to go to enjoy the plod up the mountain in the snow. I decided not to take my 600mm ( Bad decision it was to be). What I hauled was, the D800E + 300mm + TC 1.7 giving me 500mm focal length. We told Sushil to go ahead and start a scan of the area and that we would catch up. Just a bit from the tip of the ridge we saw Sushil gesticulating wildly for us to rush. I sprinted but had to stop after about 15 steps to catch my breath ! We then waited a bit and fast tracked to him. He mentioned he saw three snow leopards near the rocks. I scannned the rocks on the far side of the gorge but, no luck ! It was then he mentioned they were approaching  the rock and I saw them ! What joy, Not one, but three tracking through the snow in one line ! Pure joy and a huge wish come true. I grabbed my camera and started shooting wishing I had carried my 600mm. Sushil then ran off to call the others. Soon I realised I needed to shoot a video. Tried video on the D800 but could not maintain the frame since the light was so bright and I could barely make out anything on the LCD. My frame was drifting in the cold and there was no way I could shoot video effectively. Need a tripod for the long lens video on a DSLR without an articulating LCD. That was a lesson. I quickly saw if my histograms were ok. I dialed in F14 to compensate for any focus drift at that distance. I know I was in the diffraction zone but that was ok. F14 needed me to boost ISO so I did that keeping very high shutter speeds to compensate for any blurs due to shooting. The Snow leopards were about a kilometer away on the other side of the gorge and were mere spots. I am sure sometimes they would be walking on the very ridge we were standing on too, but not this day. I then grabbed a Canon SX50HS a super zoom , zoomed all the way to 1200mm on the 1/2.3 inch sensor and shot videos and stills. We had a sighting for almost thirty minutes. These were a female with two cubs. As soon as the snow leopards got into the rocks, the disappeared. So perfect is their camouflage.We took turns in "keeping bead" on the snow leopards. It was tough to re-accquire them if one took our eyes off the camera or binoculars. We saw the snow leopard charge on some blue sheep but the light was falling and we lost the snow leopard in the rocks. No chance of photographing it in that situation !We stayed till the sun began to set and then got back to camp. Great joy all around !
Three snow leopards tracking on the ridge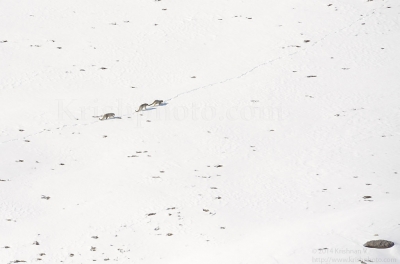 Three snow leopards sitting in the evening sunlight.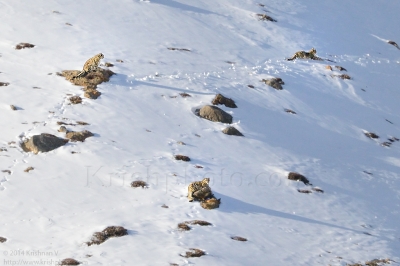 The folks set up a party and all the pics were pooled into a laptop and shown to all. Kalzang was brought in again for giving thanks to the spirit that had given us guidance. The ladies cooked us some wonderful meal and everybody got high on "Ara" a local brew made out of Barley. Sushil was "the happiest" and he was majorly relieved that his efforts paid off.
An elated team on spotting the snow leopards. Tenzing the tall one facing the camera.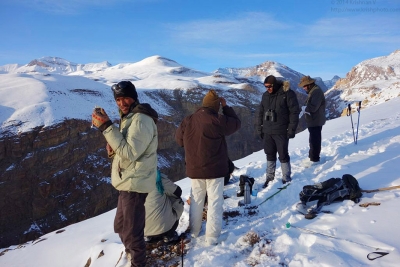 Excitement on seeing the pictures on a laptop back at camp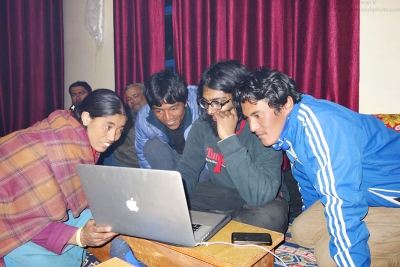 The next morning ( a cold crisp Kibber morning) we started back for civilisation ( Kibber- Rampur). A three day "de-induction" to get back to Mumbai  on the 9th March
I am sure the Snow Leopards were now on our side of the gorge. Sigh …..!
The stay
Must stay at Sheruji's hotel. Amazing hospitality, comfort & food.
The Heros
Sushil & Lamaji : The Uber trackers on our trip.
Sheru: The ever smiling and accommodating hotel owner
Namgyal: The Superb Chef who can make some rocket fuel chutney with red chillies. This Chutney is to die for !
Tenzing the tall one : The tall superman who can fly over the rocks. He made a recce over the far side of the gorge and I thought he was moving like superman !
Tsering : Our very caring support who helped us with our panting halts and encouraged us to keep going. Rock solid person on the mountains.
Kesang : The Michael Schumaker avatar on icy mountain roads. Must have as a cab driver. Fast n Furious but confident driving with great control.
Tenzing the driver: The ice cool senior driver of the second cab. Rock solid smooth and confident driver. A huge asset to have on a trip.
Photography Learnings
Get the longest lens.
Set manual exposure . EV +1.5 off the snow and check histogram.
Ideally get a super zoom bridge compact for instant shootings ( Canon SX50HS or the Nikon P600 etc)
My Sony RX-100 was the most used. Even shot a few panaromas with it and they came out just fine !
You will need local help to carry gear up the mountain.
The puny mighty Canon SX50HS on the left Vs my gear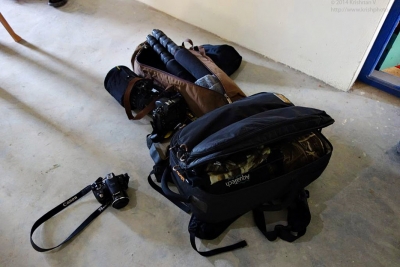 Warm Wear
Snow Shoes required with gaiters
Two layers of thick socks
I wore 5 Layers ( 2 base layers, 1 Thick teeshirt, 1 Thick fleece, Northface windproof outer shell top).
It helps to get the modern moisture wicking base layer. I was sweating while walking up the mountain.
A fleece lined windproof trouser ( A must). I used a Montane terra trouser which worked well and a separate fleece trouser for camp.
You also need a "Down Jacket" but for times you are at camp or when sitting out for long.
Two layers of good gloves (Thinner liner wool/ fleece and a goretex outer)
Fleece Balaclava & woollen cap
Bring a sleeping bag ( Helps when you toss n turn in bed by not exposing the blanket edge to ones back ) Woke up so many times because the blanket slid off..brrrrrrrrr.
You will need help to carry gear up the mountain.
Fitness
Start a good cardio regime. You will need to hike 2 – 5 hours at 13000-14500 ft altitudes. Coupled with the cold , this is no easy task. So be prepared
Take acclamatisation schedule "uber seriously". You can die if you don't do it right.
Be ready for cold, real cold.
Above all, when you go on a Snow leopard trip, be prepared not to see it. Only then will you be able to see it. 
Uh…philosophy
For flawlessly organising this  trip, please get in touch with Rahul Rao at Foliage outdoors
Sincere a advise, please dont hold out on anyone if you don't see the Snow leopard. There is no guarantee of seeing the "Phantoms of the snow" on any trip.
All this pics here below
and