My current setup is a 2 bag setup. This setup goes easy on the back.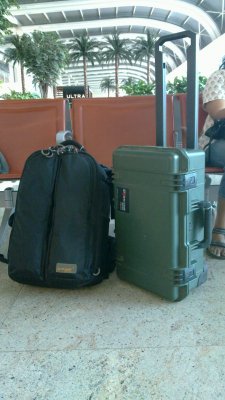 Stormcase iM2500 , is a roller and packs the following :-
600mm F4 VR without hood
300mm 3.8 VR with Hood
Nikon Monarch binoculars
Rest go into the Kiboko Backpack
2 bodies
Charger
17-35mm2.8  lens
35-80mm lens
70-200 2.8 VR lens
TC 14EII, TC 17EII
SB-800 Flash
cords & some accessories
600mm Lens hood
I can fit the 600mm F$ VR + hood into one side of the kiboko but, I prefer to split the weight between two bags.
Both go carryon and domestic has never been a problem.
Tripod, Gimbal spare batteries, GPS logger etc etc all go check in packed between clothes.
See also links below:-