The route
On the morning of our departure from Desert Coursers we got the contact for the Indian Eagle owl at Wadhwan.The name I was given was a Devrath Sinh, an avid birdwatcher. The location of the owl was in a quarry, a few kilometers from Wadhvan town. I tried Devrath's number but was unable to connect from Zainabad. Zainabad to Wadhwan is about a 2 hours drive and we would call during our drive. We left Desert Coursers at 1000H. I kept trying Devrath's phone intermittently but, no success. I then recalled that I knew someone else in Surendranagar who might be able to help. But when I reached out, he was out of town. So far we had come up blank for a contact to help us locate the owl.
By now we were almost at Surendranagar. Some 10 kms short of Surendranagar we made a decision that, if we ware not able to contact Devrath by the time we hit Surendranagar , we would proceed direct to Velavdar and try to catch the evening safari. It was decision time. Hardeep said lets give one last try to contact Devrath, and if not reachable, we proceed to Velavdar. I dialed Devrath again and he picked up. He said that he was in a function, hence his availability was iffy. Anycase he asked to call again in five minutes. He called me back in that time and told us to reach Wadhvan and that he would take us to see the owl. Luck favours the persistent , always ! Yippe yay yay!!!
We reached Wadhvan, and stopped for directions at the fire station opposite the Swaminarayan temple. The place we had to reach was "Kharvani Phone" , I thought it to be a phone shop. On reaching turns out its "Kharwani Pol" or Kharvani Gate of the old fort at Wadhvan.
Kharvani Pol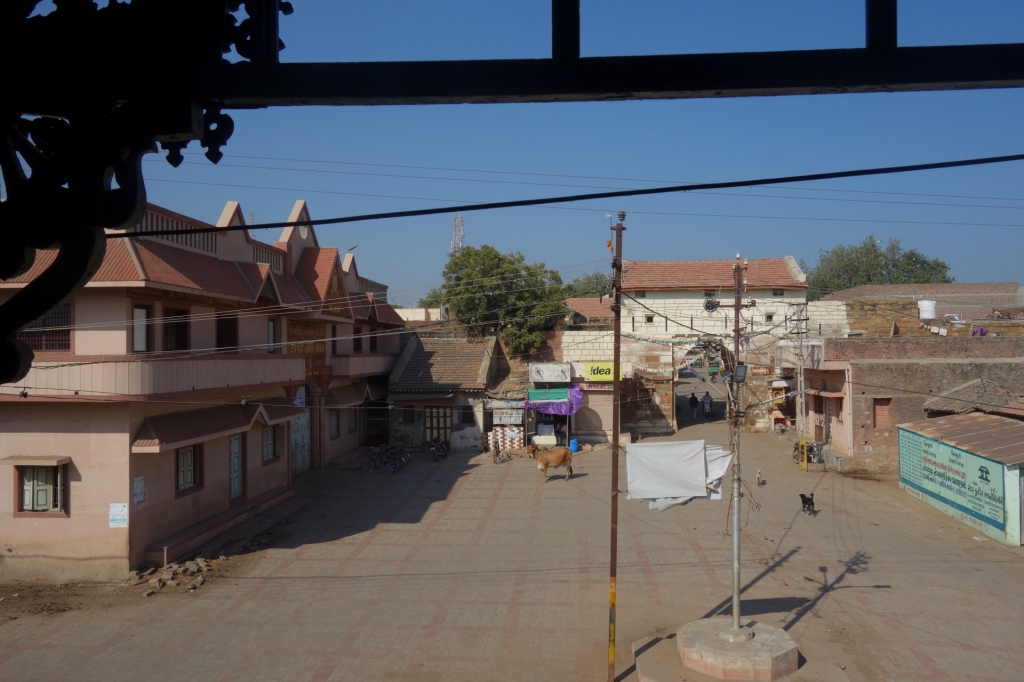 We parked and a sharply dressed Devrath came out to meet us. He introduced us to his uncle Shri Bhavani Sinh More. Turns out Shri BhavaniSinhji is a descendent of the Chandragupta Maurya dynasty and his grandfather was a noble or ruler of the city. Mr BhavaniSinh insisted we see the owl and come back to have lunch at his house and only then, leave for Velavdar. He was also the honourary wildlife warden and an avid wildlife photographer. He has a joint family of 42 people which he heads ! Additionally he presides over various social activities of his town. That day they were busy in a free health checkup camp that he had organised. Mr BhavaniSinji was most insistent and somehow, it just didn't feel right to refuse his invitation for lunch.
Devrath asked his uncle for permission to take us to see the owl. Mr BhawaniSinhji said, "show them", to which, Devrath nodded and bowed slightly in reverence. He then brought out his car, and we set off towards the quarry. The quarry is called "Swami ni khand". Literally, the quarry of Swami. The old Swaminarayan temple at Wadhvan was built from stones from this quarry, and hence the name. It was almost 1300H by the time we made to the quarry. This is now a disused quarry where a pair of the Indian Eagle owl are found. Driving on the dirt track, some of the babool trees made some scratch sounds on the side of our brand new car, much to our discomfort. Safari baptism had to happen 🙂
Just as we walked down into the quarry, Devrath pointed the bird out sitting on the rockface. What a majestic bird ! It saw us , waited a bit and flew off to an eucalyptus tree. Hardeep must have rammed some 500 shots with D500, 200-500 combo ! I used my 105mm lens and borrowed his 200-500 for one closer shot. As I took the shot, the bird hooted and,took off in my direction. I wasn't ready so missed a good flight shot. What a hoot sound ! Sounded like a big deep slightly sharp "Woop" ! Devrath mentioned that he is studying these owls for some time now and knew them intimately. On the way out we also spotted a "variable wheater".
Indian Eagle Owl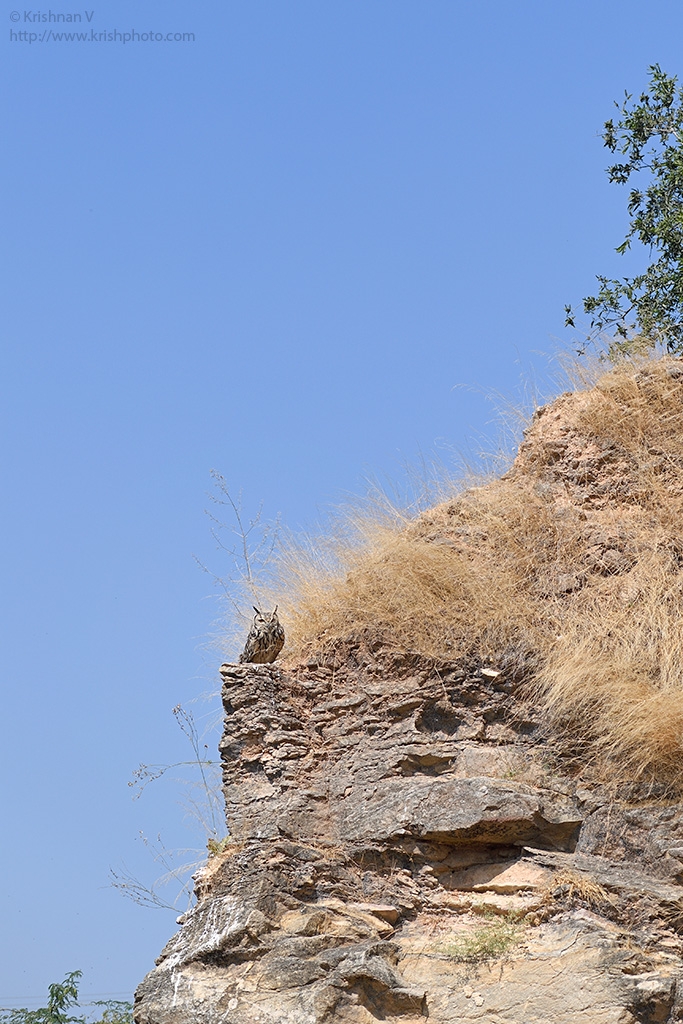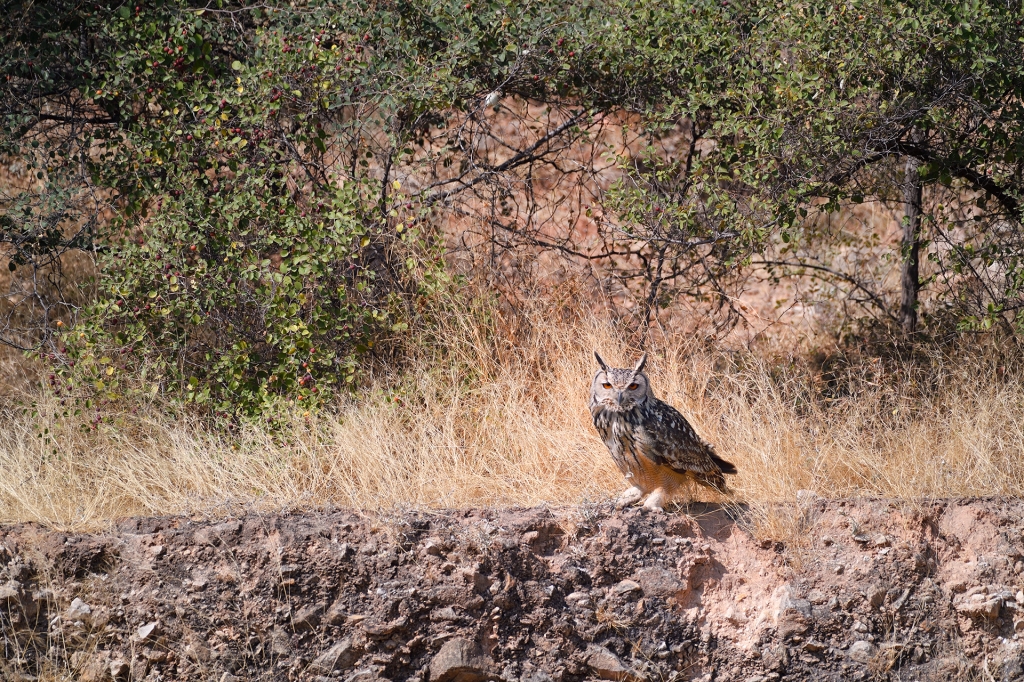 We drove back to Kharwani Pol and were invited to Mr BhawaniSinji's lunch. The house is a huge "haveli" (old huge house) with a lower and an upper level.
The "haveli"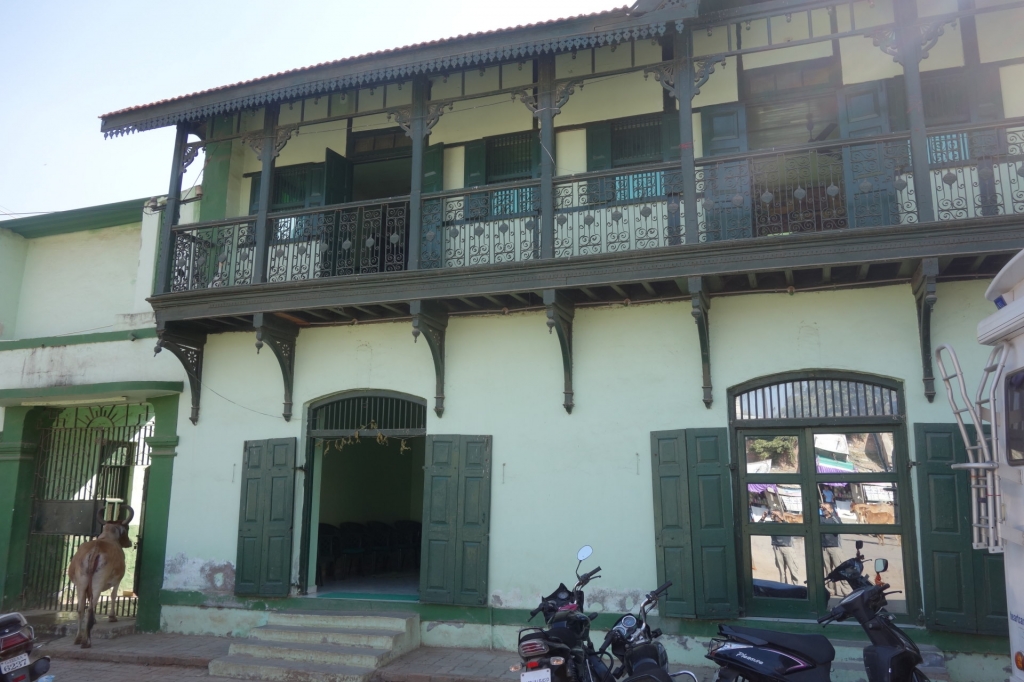 It is located bang opposite "Kharwani Pol" gate of the fort. The square itself was clean but there were pigs scavenging in the garbage in a corner right opposite his house. We moved up some steep wooden stairs at his "haveli" to his living room . The building was painted green and as were pretty much everything inside. The room was covered with old wildlife photographs taken my Mr BhawaniSinh. He was clearly more than enthusiast. He passionately showed us photographs and his meeting with various famous personalities. He mentioned he had his relative/ son in the municipality council and gave us a background of his family. I asked him about his traditional "emblem" and he said the Indian four lion symbol was the one, which is now used by the Government of India ! He mentioned that he helps resolve all issues the people of Wadhwan and that the people do not go to courts for resolution. Also, he has a huge traditional social responsibility that he is accountable for. He showed us his "museum" where pretty much everything was again…., green. Also we saw his traditional "swords" which as warriors they still keep. But they were stashed behind a sofa cushion which he removed for us to see !
The living room with photographs
Swords behind the cushion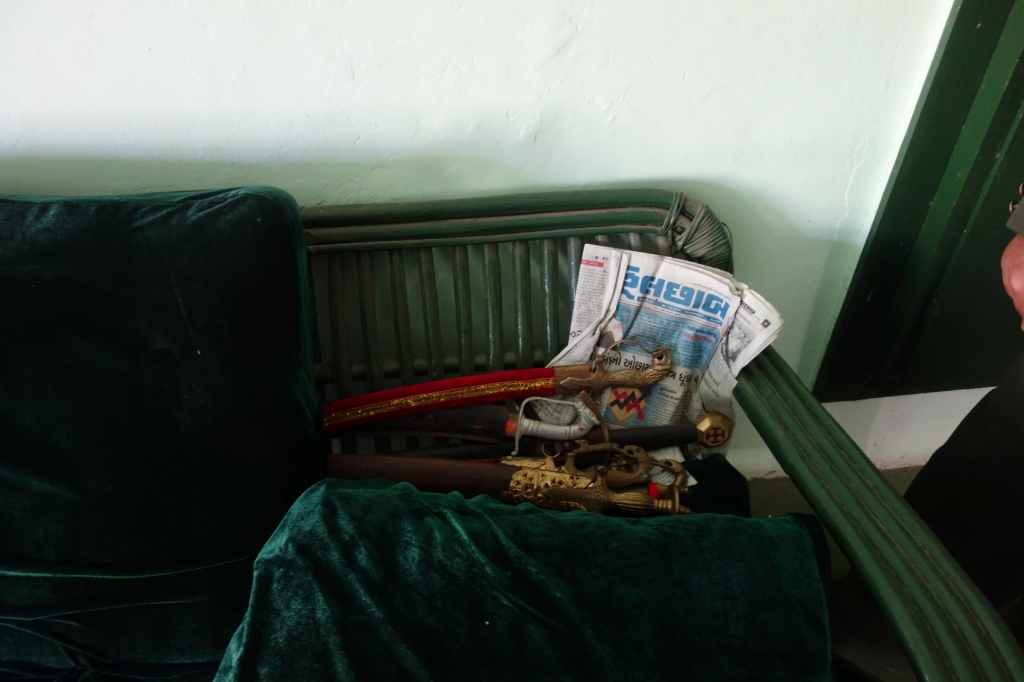 The living room

Shri BhawaniSinhji's living room from krish photo on Vimeo.
The lunch was a well prepared simple typical Kathiawadi spread of Puri, potato vegetable in gravy, a local dal (both a tad sweet) with rice, salads and fried "pappad". There was some delectable "chaas" to wash the food down with. The desert was a very local sweet which had a chocolate colour, in the type of a "burfi" but tasted of only exotic nuts & probably dates. We just couldn't figure out what all it had ! Of course, the tableware and the napkins were also green ! His son served us as did Devrath.
The wonderful lunch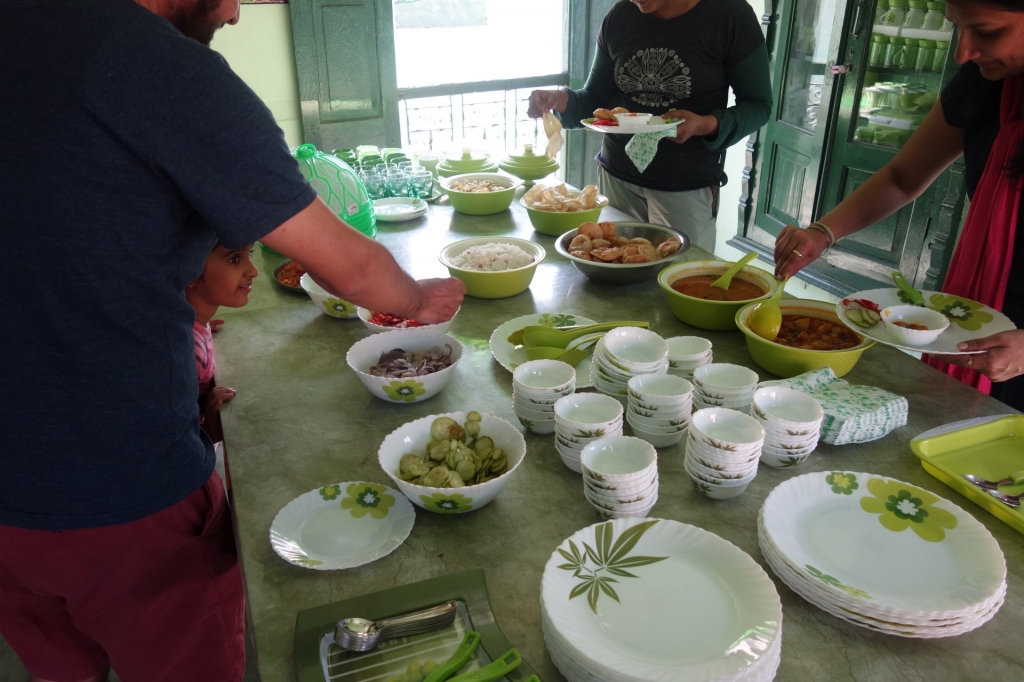 Everything green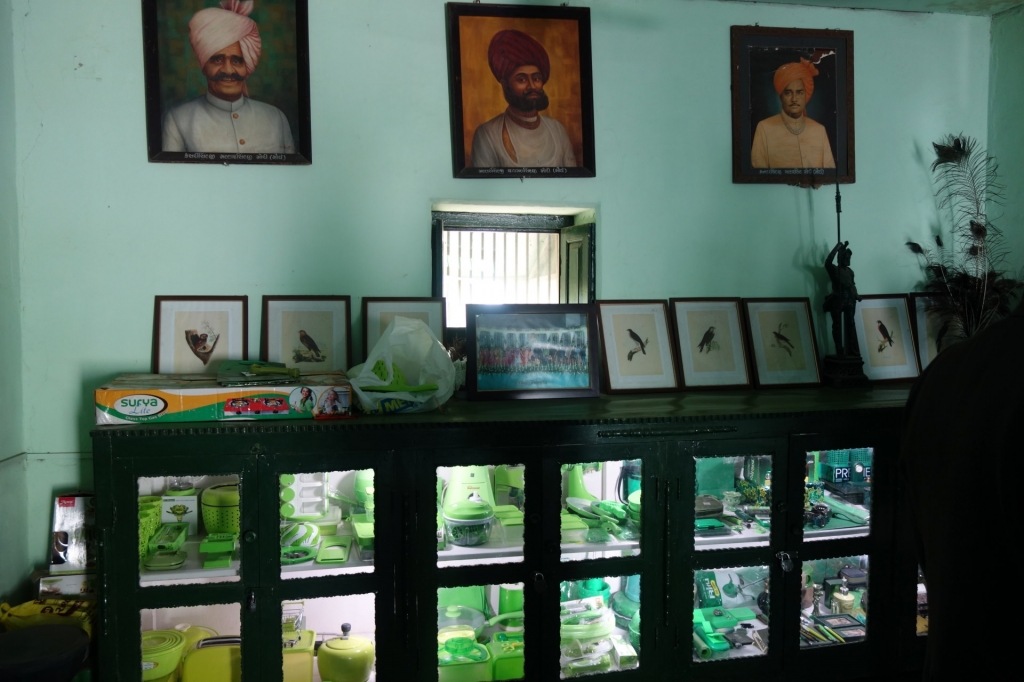 Even the electric switches are painted green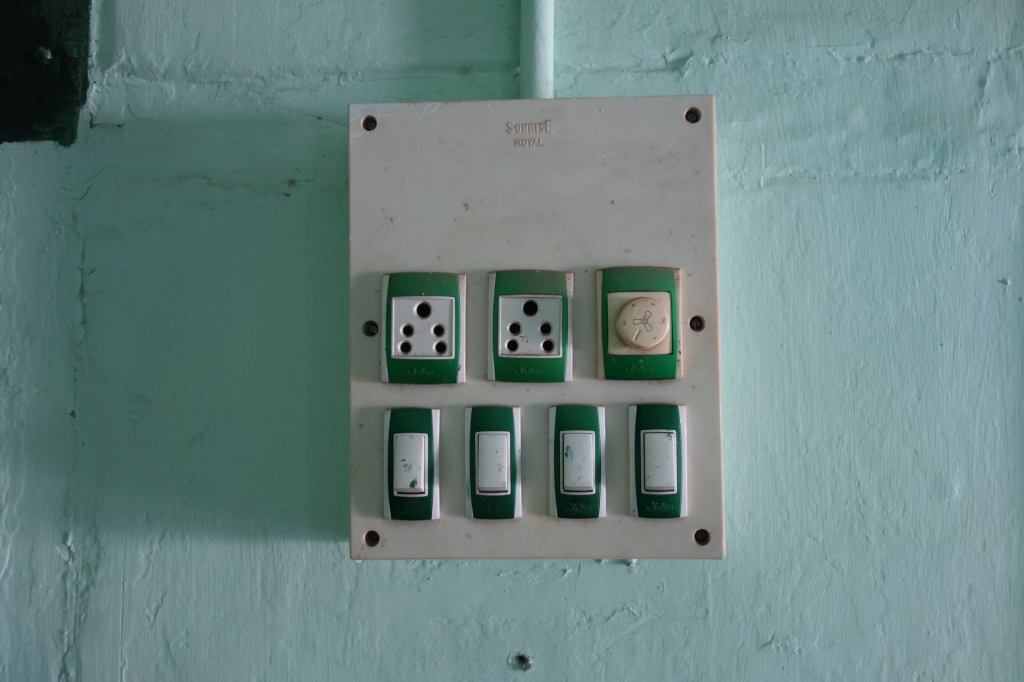 After, our meal we were asked to wait. Mr BhawaniSinh ji asked someone to arrange for some gifts to take with us. We thanked him profusely and of course, there was no question of any compensation. He waived off any mention of it and looked annoyed when we asked. He then said that we were most welcome and invited us to visit again.
The gifts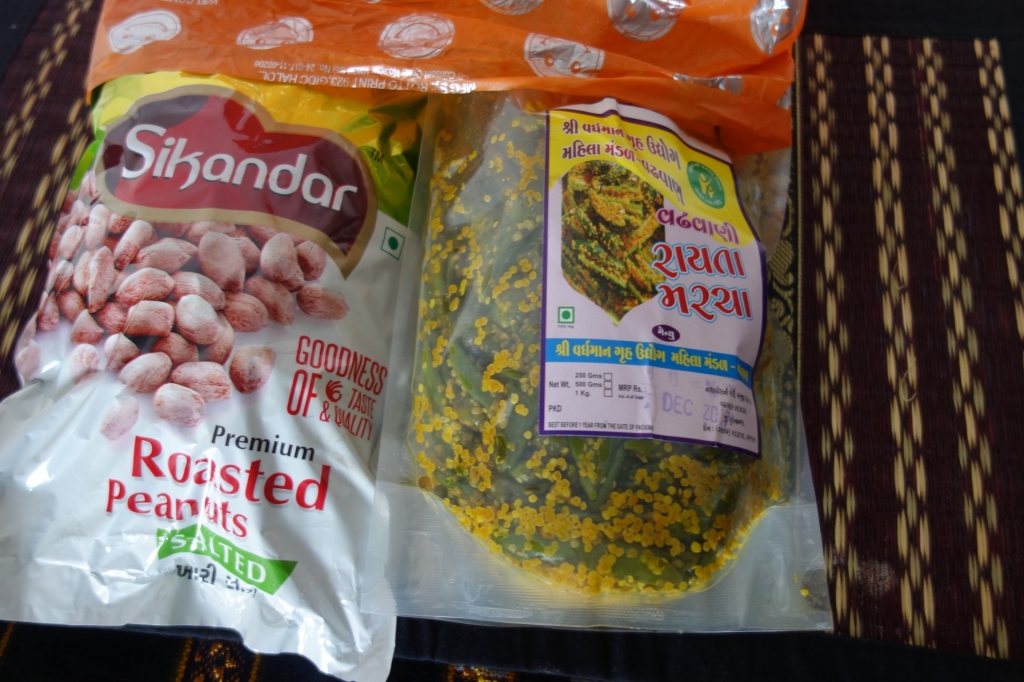 We were just bowled over by the hospitality. It is an experience that we will never forget. If this is the hospitality to random strangers, imagine if you are a person know to him ! Truly hard to describe our experience and most definitely "the highlight" of our trip. Traditional princely hospitality is rare but very real!
Pic with our wonderful hosts. The dapper Devrath in the brown jacket and Mr BhawaniSinh ji in the green golf cap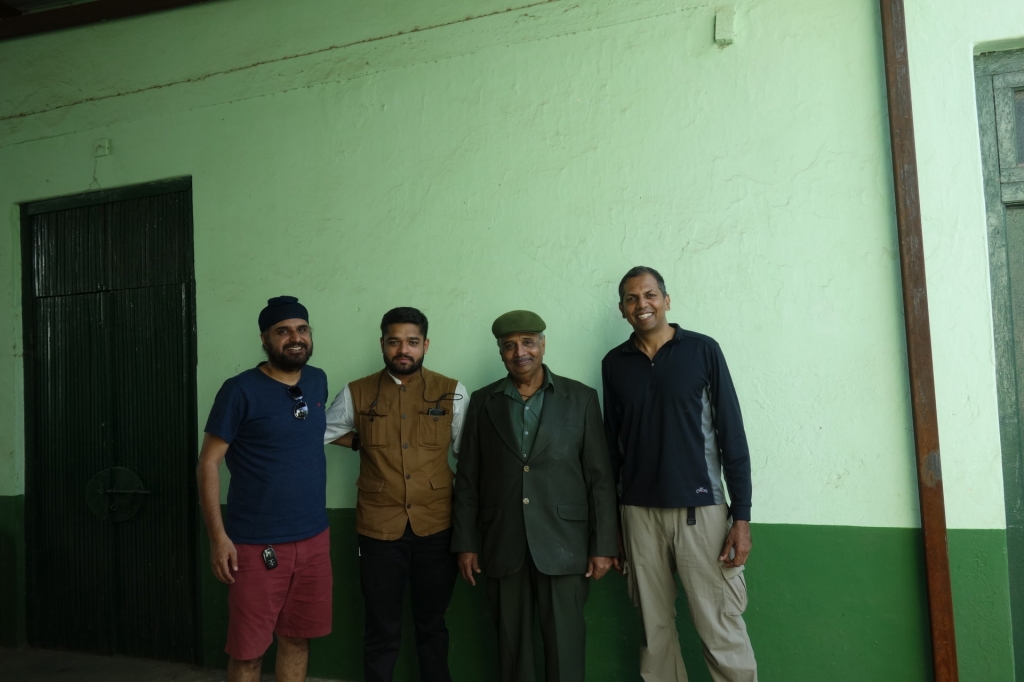 We were only chatting about the wonderful hospitality all the way to Velavdar which was about two hours away from Wadhwan.