Ive been wanting to visit the "Littel Rann of Kutch" (LRK) for a while now. When I checked with Adesh his trip was fully booked. I made a quick call to Rahul at Foliage Outdoors and he suggested I speak with Dhanraj at "Desert Coursers" Zainabad. A quick call with an email and the bookings were confirmed. The plan was to drive from Mumbai and reach Zainabad by evening. Google showed a 11 hour time. We loaded up and were rolling at 0630H, 20 Dec 2017. One of the choke points was the Ghodbunder bridge but thankfully, we breezed through that early morning. The plan was to spend 2 full days at LRK 21 & 22 Dec 2017. Leave for Velavdar on the 23rd. Do two days at Velavdar, 24 & 25 Dec . Then head back to Mumbai on the 26th.
Mumbai to Zainabad, we made two stops, about three and a half hours apart. for breakfast and lunch. Worked out just fine the pit stops. Recommend "Sugar and Spice Veg and Sub Station Veg and Non-Veg" which is at Rola CNG station about halfway between Valasd & Chikhli. The second stop which was for lunch, was at Ekta banquets, Anand. The parantha without masala which we ordered at the "food Court" was done really well !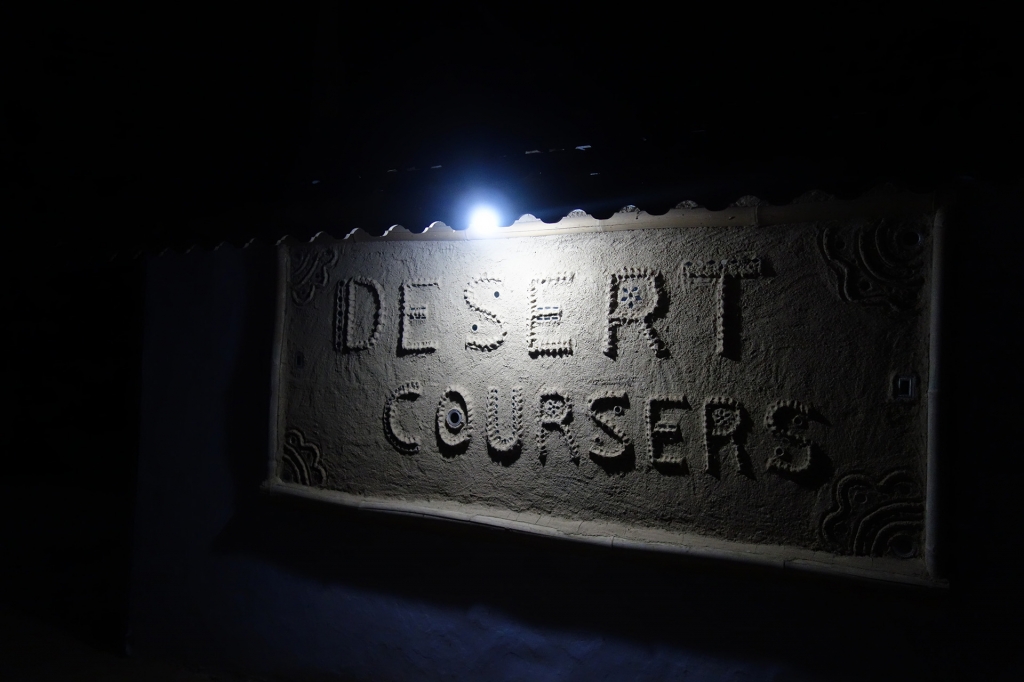 We rolled into Desert Coursers by 1930H and were warmly welcomed by Mr Roy the manager. The mud cottage had some very interesting local motif and decoration. Not the most luxurious but, pretty good by me. We than spoke with Dhanraj Malik who assigned Iqbal as the driver and guide for our safaris. He mentioned that the canal authorities had released way too much water this season and as a result the water was not saline enough for the flamingos. Usually there were a few tens of thousands of flamingos. We would be lucky if we spotted any he said. Kick off was to be early morning at 0630H. I was "too bushed" to set up my gear and decided to do that in the morning.
The room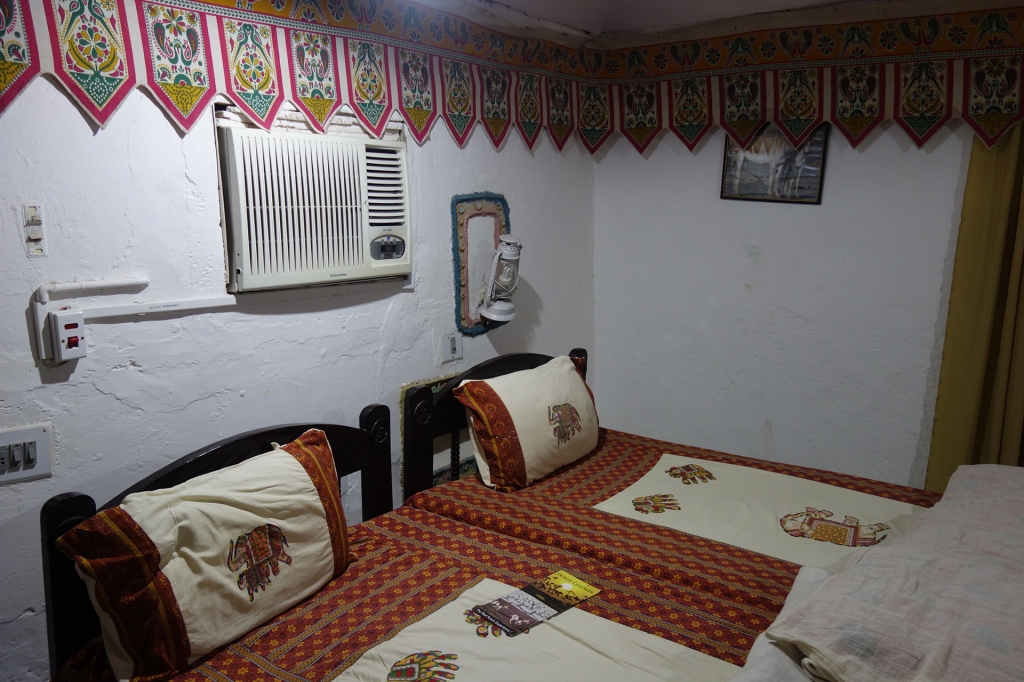 Interesting motifs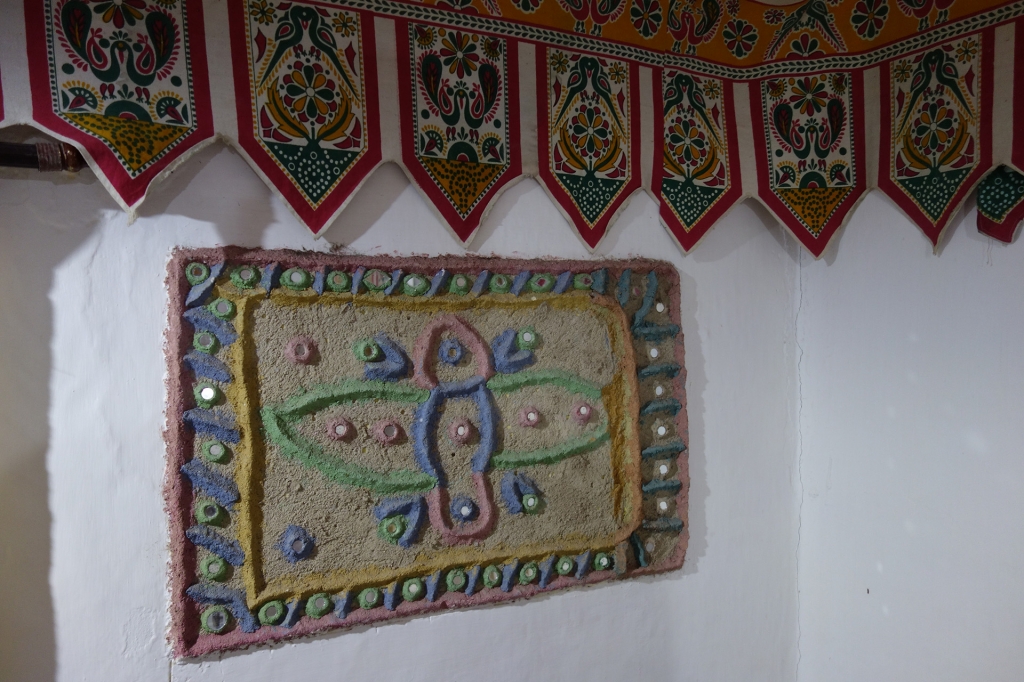 I was a bit handicapped this trip since I didn't have my 70-200. But I substituted it with a 105mm macro. So my D5 was mated to the 600+TC14 and the D3 with the 105mm macro. Also I had only one XQD card. If that malfunctioned, Id have to shift to the D3 + CF cards. Usually this time is biting cold but, it was quite bearable that morning. I had on two layers of tee shirts( one half and one full sleeves ) and an outer windproof fleece jacket. I also wore a windproof cap and light gloves. The drive through the Rann is cold and the wind cuts through.
As we started through the village, we first spotted a Eurasian sparrowhawk and a Black Shouldered kite on the wires. We saw wild asses as soon as we entered the park. Also a few brahminy ducks in a pond close by.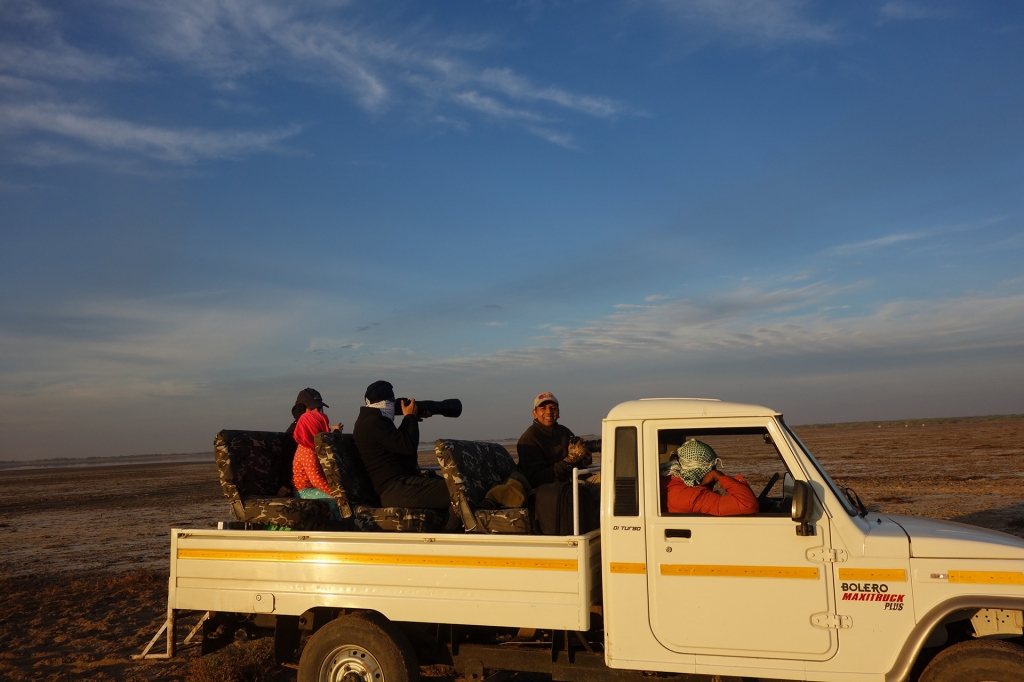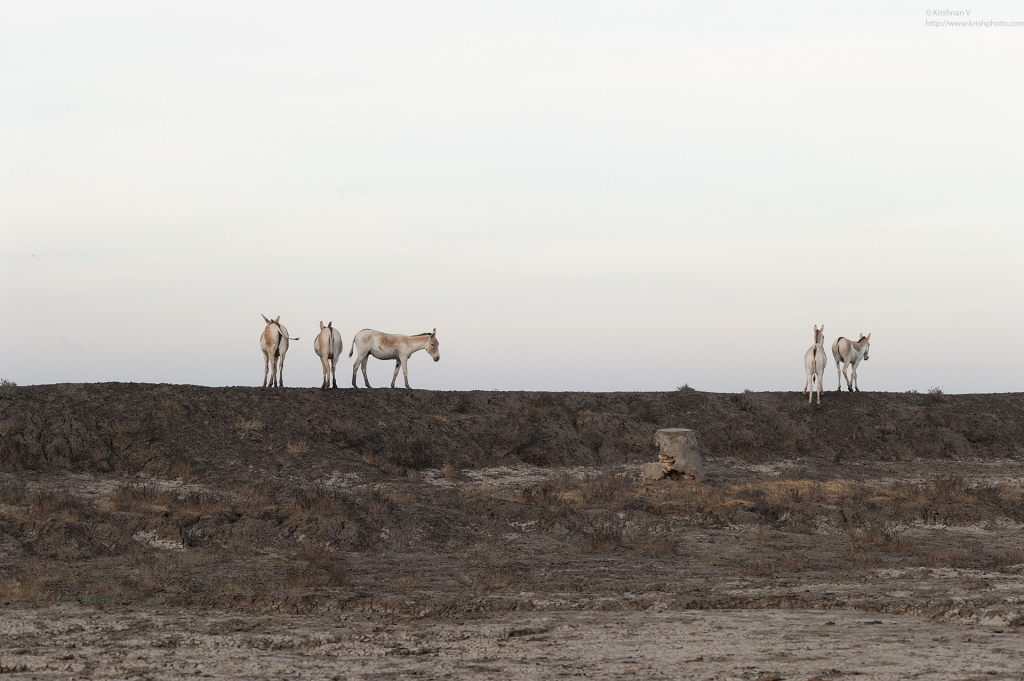 Sponbills in the pond

Iqbal said we should try for the Houbara/ Macqueen's Bustard first. Without hanging around much we sped off to the houbara area. This particular bird is hunted in Pakistan by the thousands by money paying sheikhs. It breeds in the Sinai, Palestine , Iran and winters in Afghanistan/ Pakistan/ Western Indian arid areas. We spotted a pair flying in the distance and drove to that general area. We spotted the birds in the undergrowth. They took flight before I could lineup my lens. But, I did manage to get a few flight shots. Finally , Macqueen's bustard ticked off ! We were so excited that we were going bustard bustard in every sentence. Then a six year toddler in the jeep with us a certain "Miss Pinkita", corrected us " Bustard is a bad word!" . We all laughed aloud and stopped for breakfast :-). Breakfast is packed and carried in the jeep. Wonder how plain boiled eggs taste so delicious while in the field !
Miss Pinkita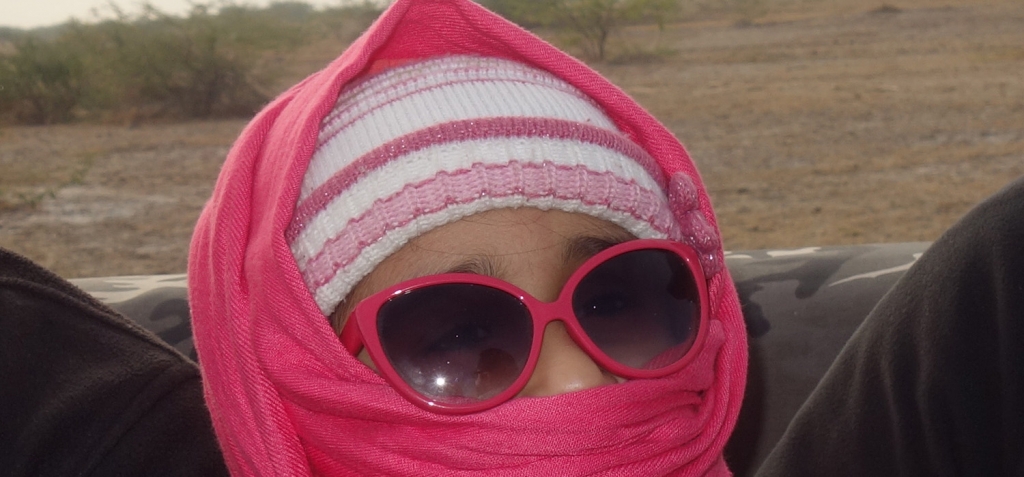 Breakfast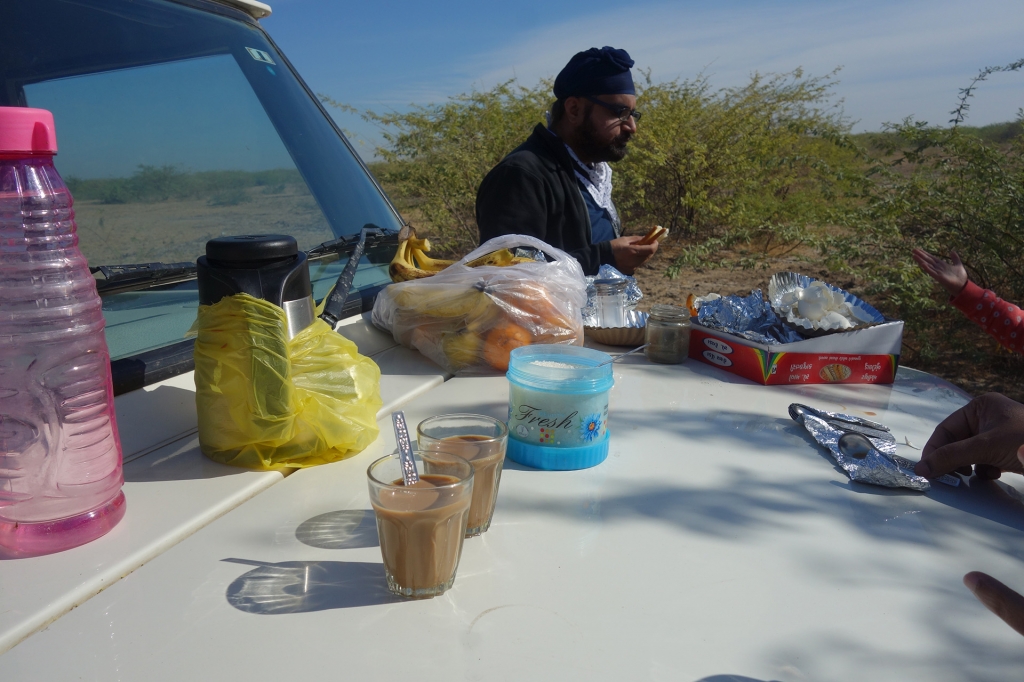 The Rann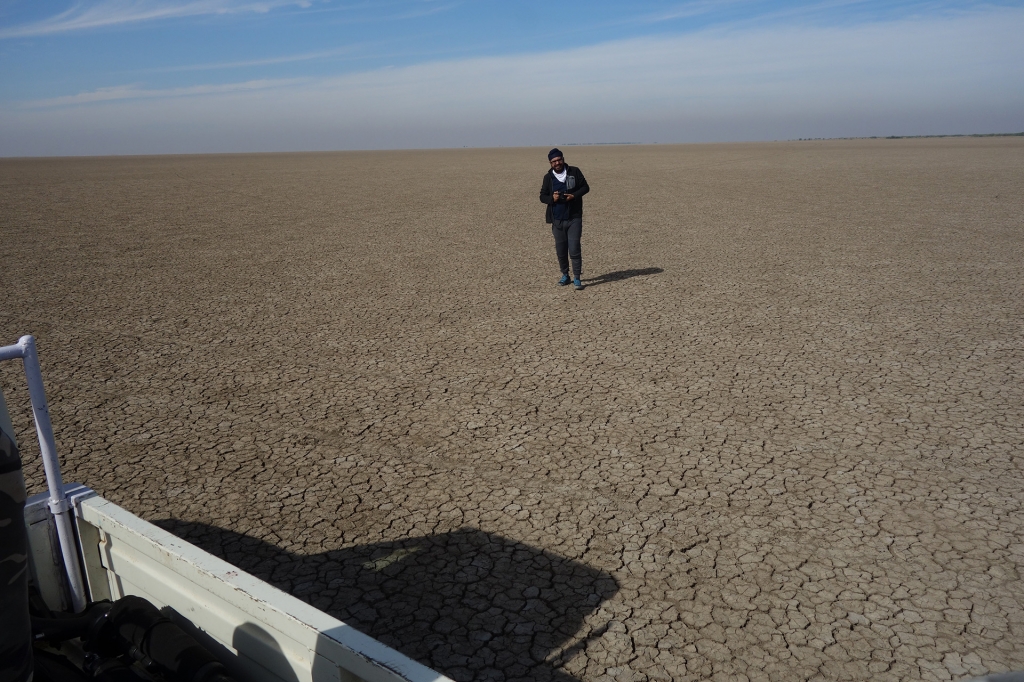 The Macqueen's Bustard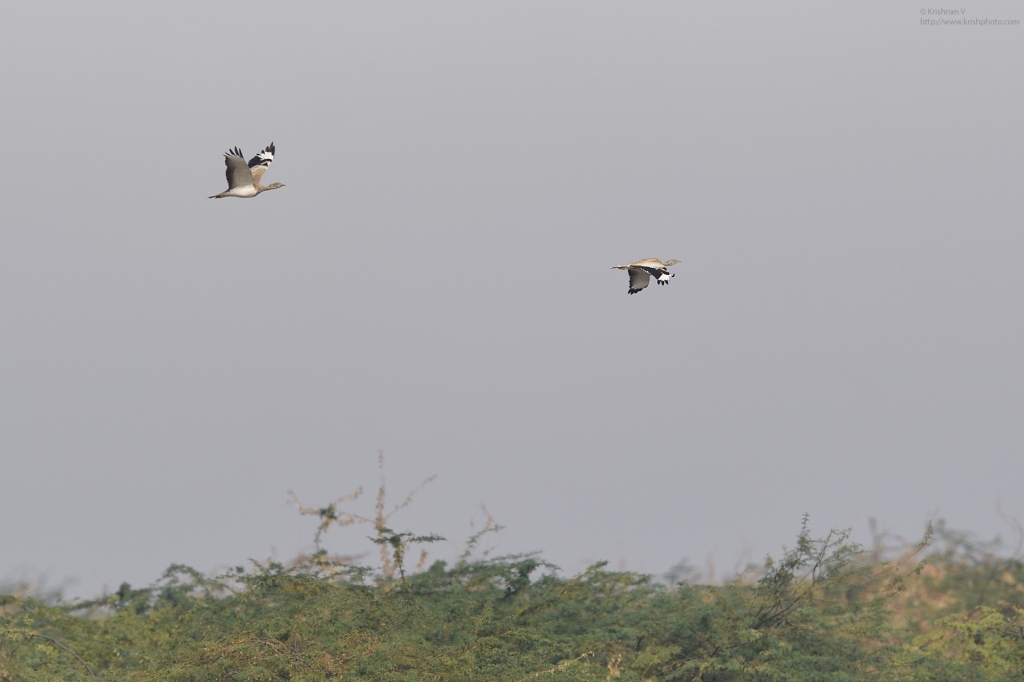 Peregrine Falcon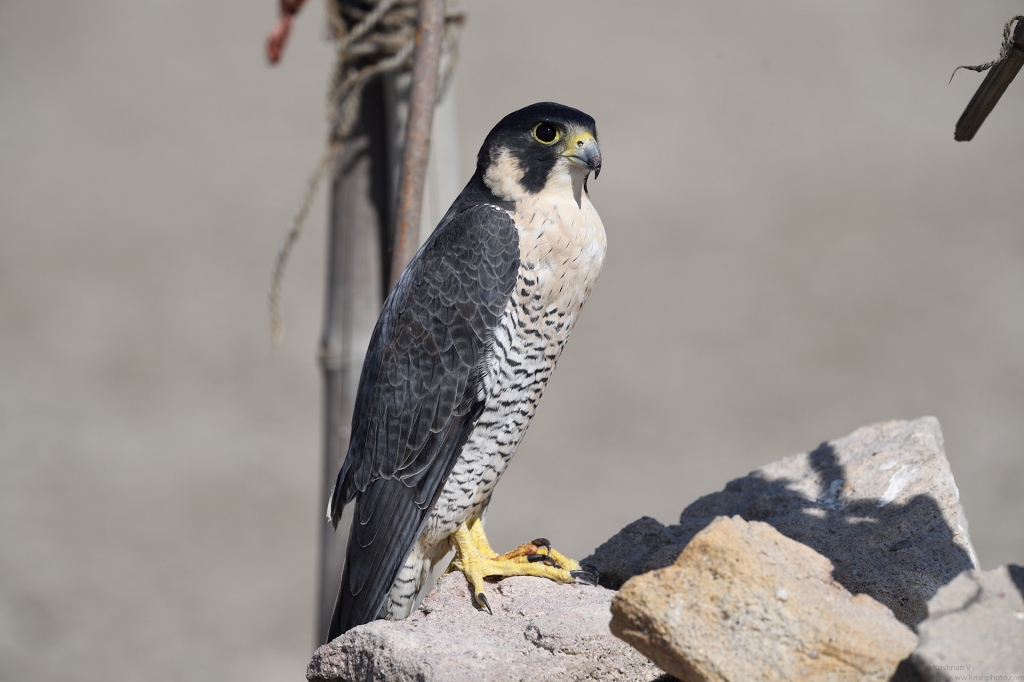 Some aviation geekness: We spotted a jet airliner pulling a cool contrail. The 850mm even picked out the British Airways (BA) marking , probably flying some FL390 ! I saw that I can make out the aircraft was a big 4 engine one , probably an airbus A-380. The underwing registration markings were not that clear. Later on my computer at full screen mode, the registration looked like "BE" as the last two letters . I checked http://ftdashboard.net/fleet/index.htm for BA's A380 registrations and came up with G-XLEE. Now checking what this aircraft was doing on 21 Dec 2017 on IST 1015H which was UTC 0445H https://planefinder.net/flight/BAW11/time/2017-12-21T04:45:00# . Bingo it was this very same aircraft overflying the Rann ! Flight no BA-11, callsign BAW11, flying LHR-SIN, FL390 (Bingo ! I'd guessed right!!! ) and doing 517 Knots, tracking 106 Degrees ! Super happy with my bit of aviation research !
840mm picks out an airliner at 39000 ft !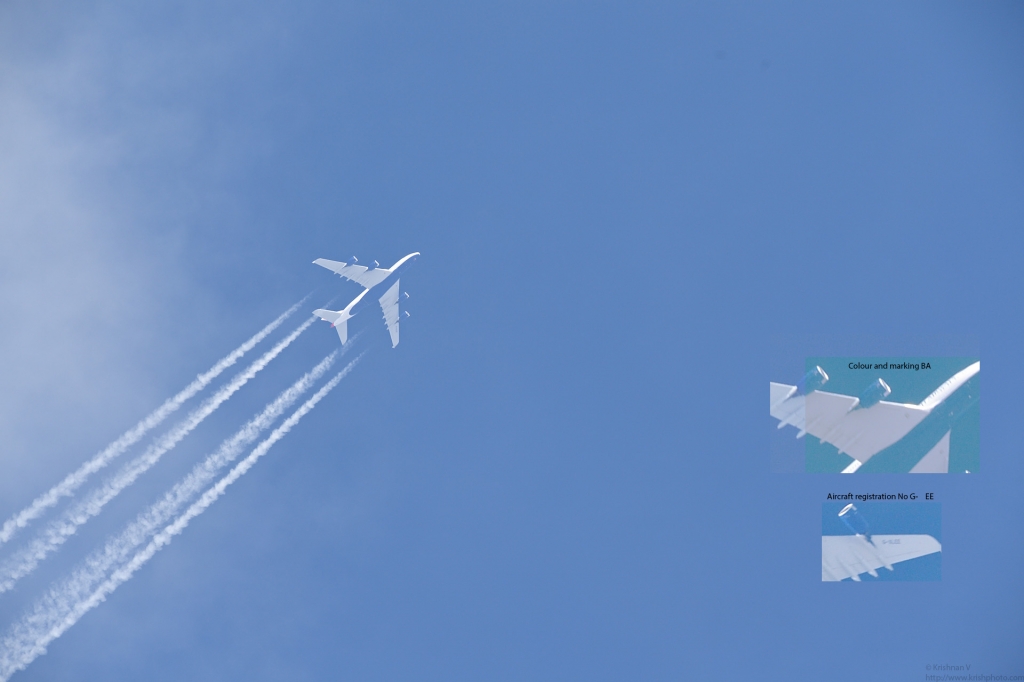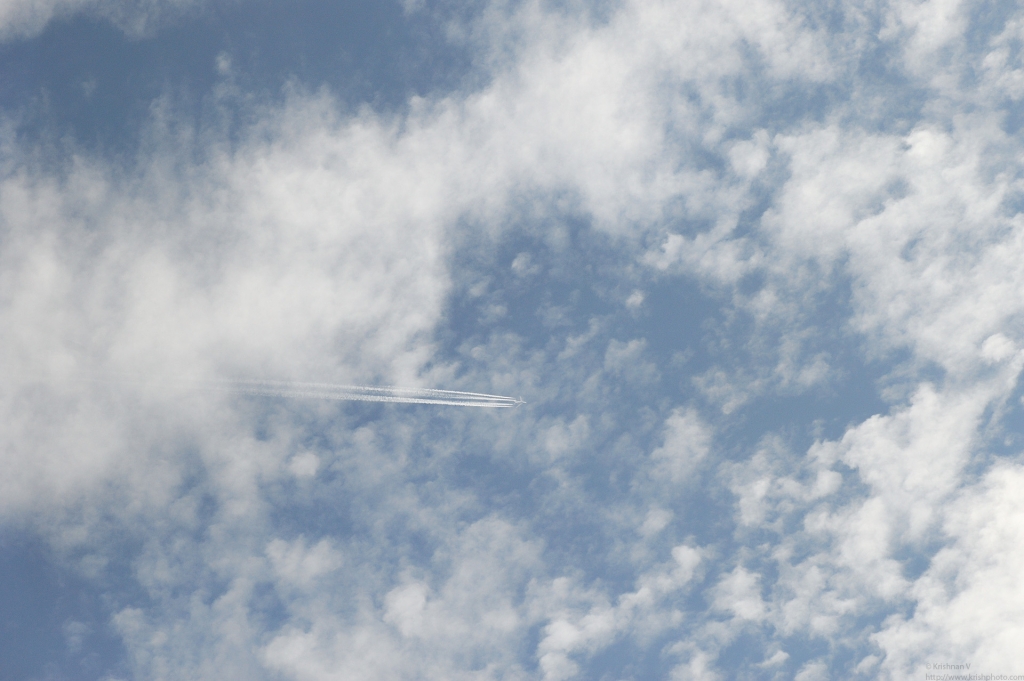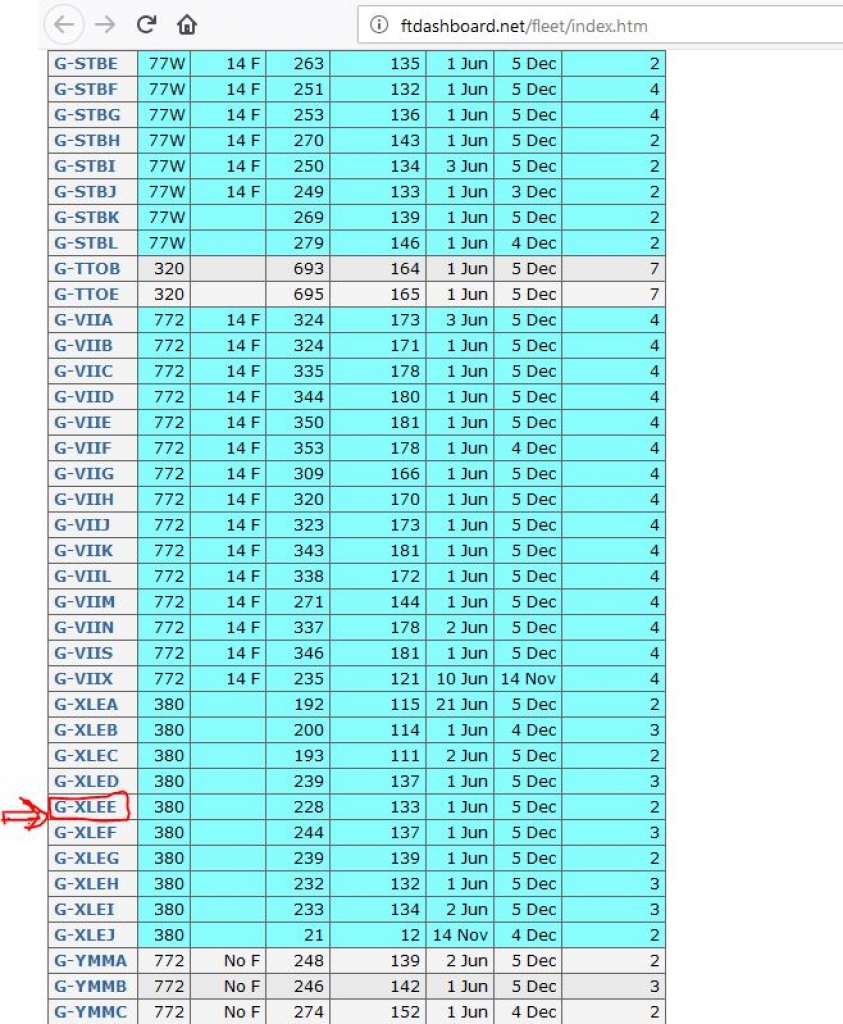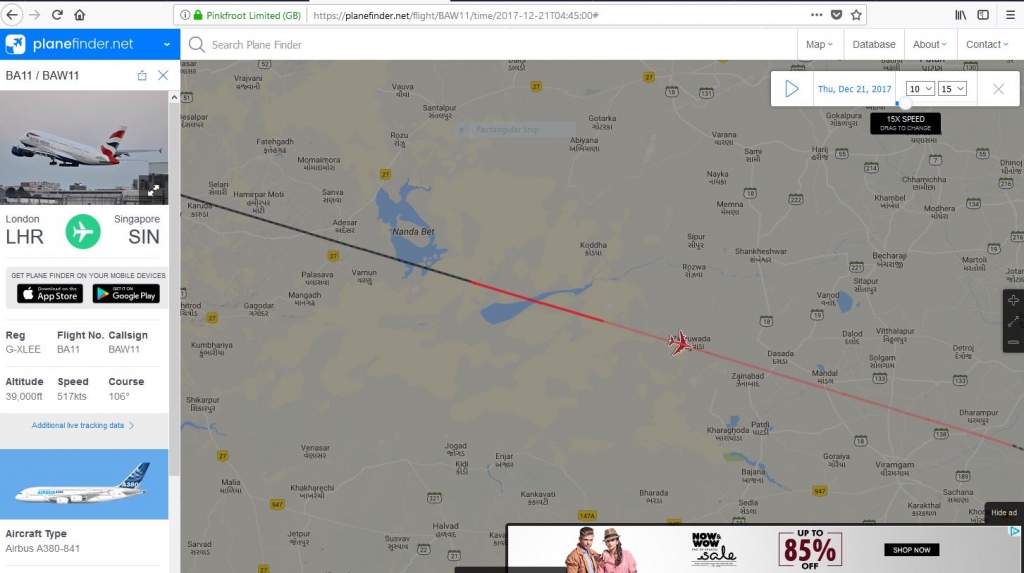 After lunch I messed around trying some offbeat shots. Here are a couple of "2 multiple shots". First out of focus shot and a focused one on top of it. Check the Nikon "Photo Shooting Menu" > Multiple Exposure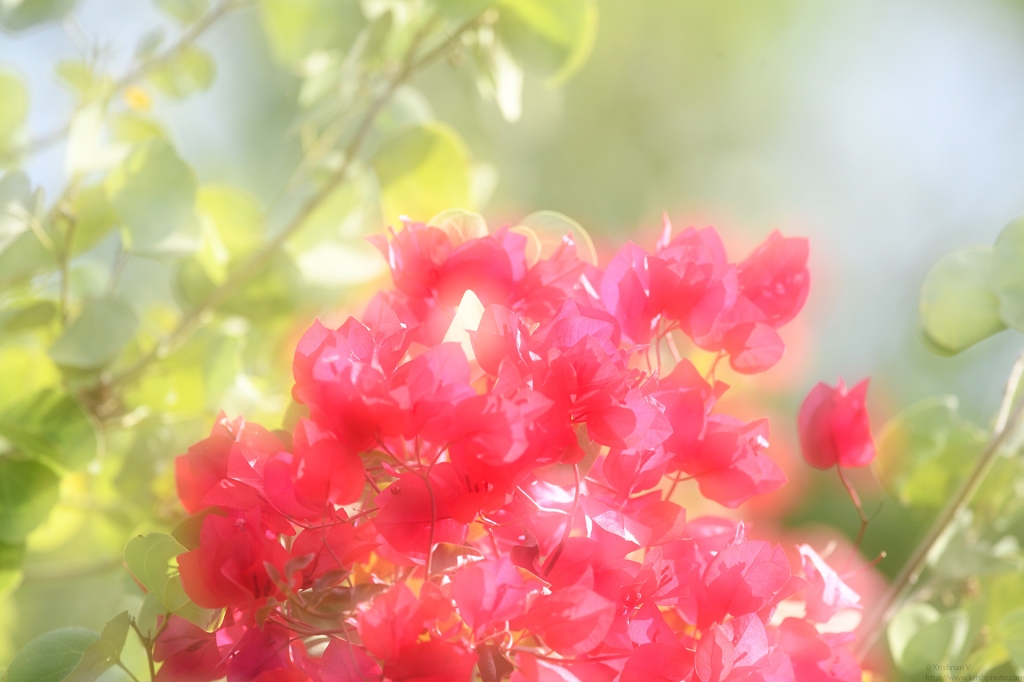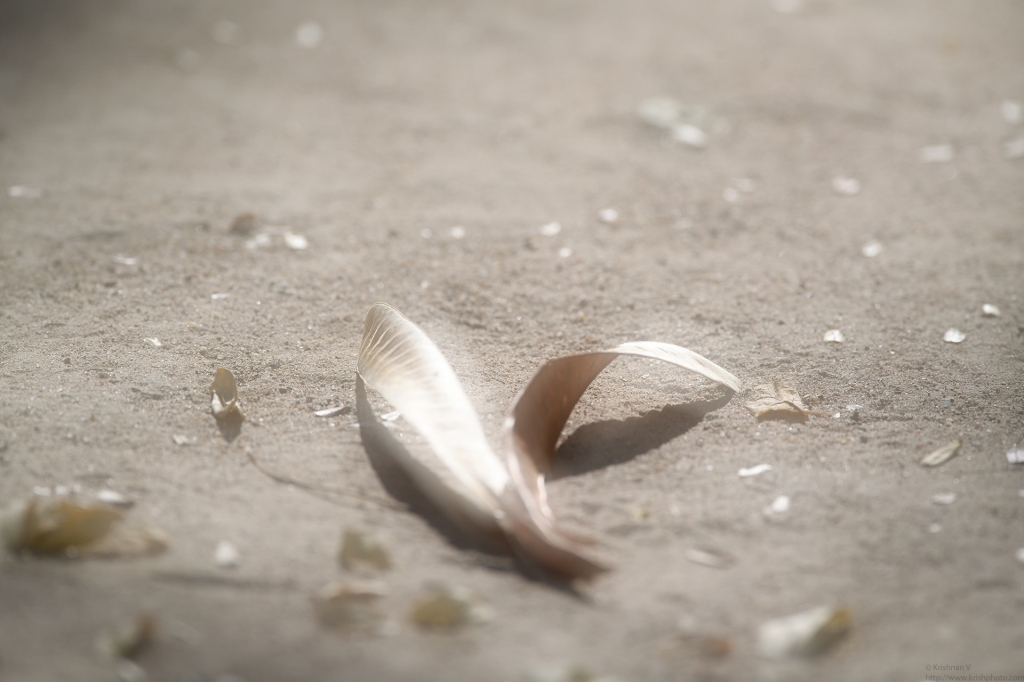 As we got ready for the evening safari, Dhanraj excitedly called us over to see his "super star" the Pallid Scops owl. It flies in from Afghanistan and chose his backyard to winter, all on inside some 10 square meters ! One rare rare birdie and possibly found 100% only in his backyard in India. It usually breeds in central asia, Afghanistan.
Pallid Scops Owl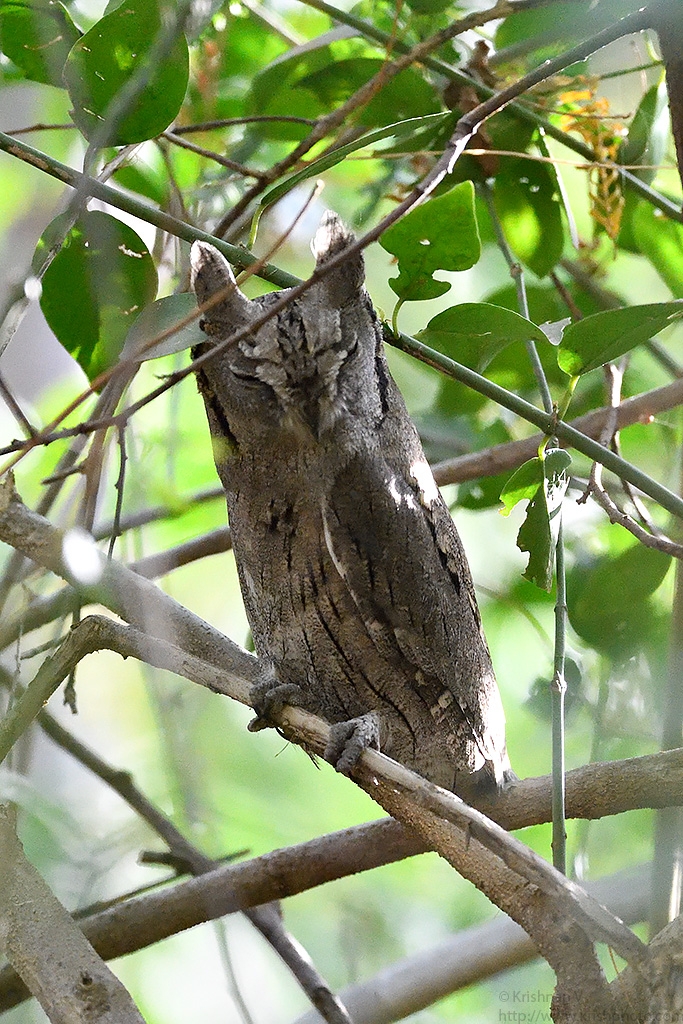 The evening target was the "short eared owl" and the desert fox. Also the sykes nightjar, which was to be spotted post sundown. We got to see a few Short eared and, one individual was particularly easy to get close and photograph. I am sure Iqbal had spotted many more but he let us on to only a few ! Somewhere in the excitement, one of our spectacles was lost, probably dropped off the jeep. A bit of angst ensued and the mood was a bit less exciting than usual.
Short eared owl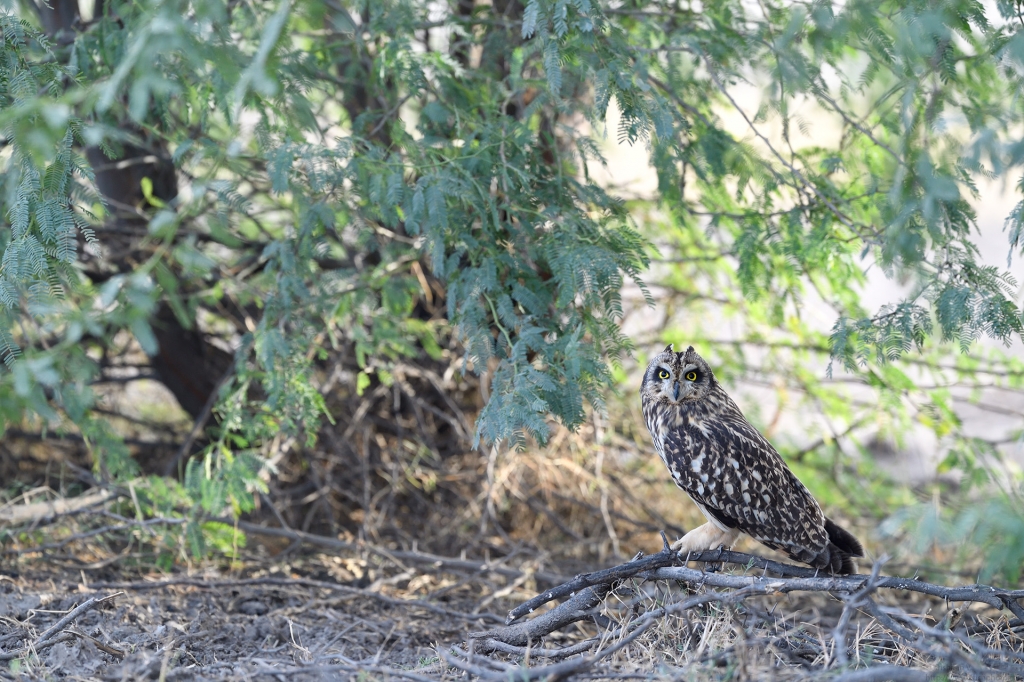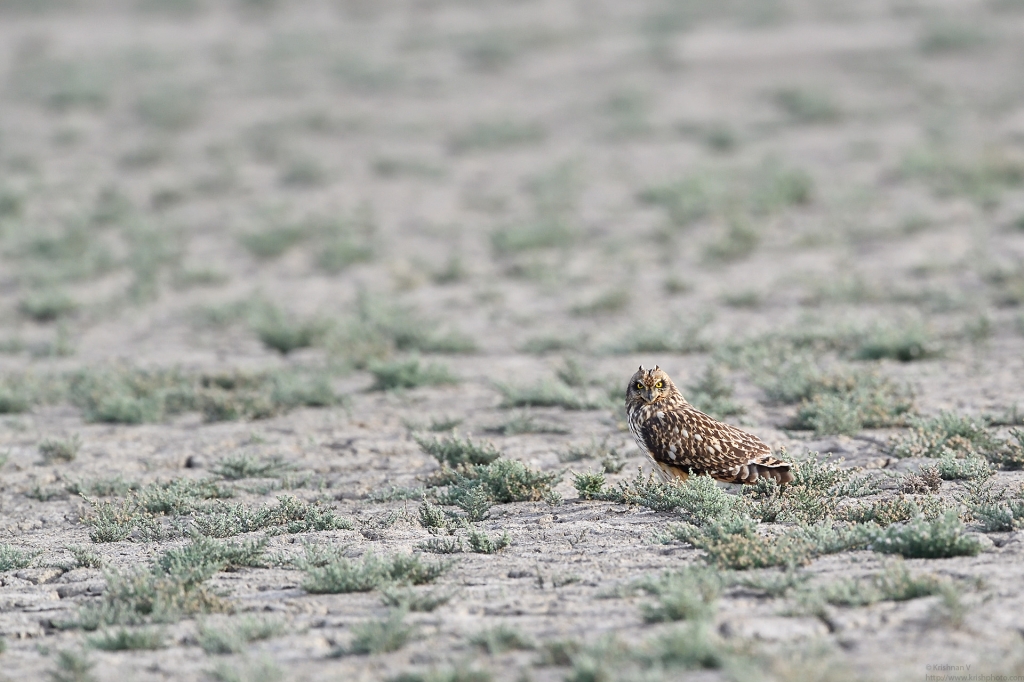 After the owl we started scouting to spot a desert fox. Iqbal knew exactly where to look and he spotted one soon. The fox was super shy and scooted on approach. We followed it for a bit and then gave up. We saw many harriers coming in to roost on the Rann. Photographing them is tough, since they fly off as soon as they see you approach. We waited the sundown at a salt pan workers hut where, we had some lovely salty black tea. The worker was a fourth generation salt pan worker he said. We watched a glorious sunset and then set off to spot nightjars.
Desert Fox ( note the white on the tail)
Roosting harrier, a Montague this one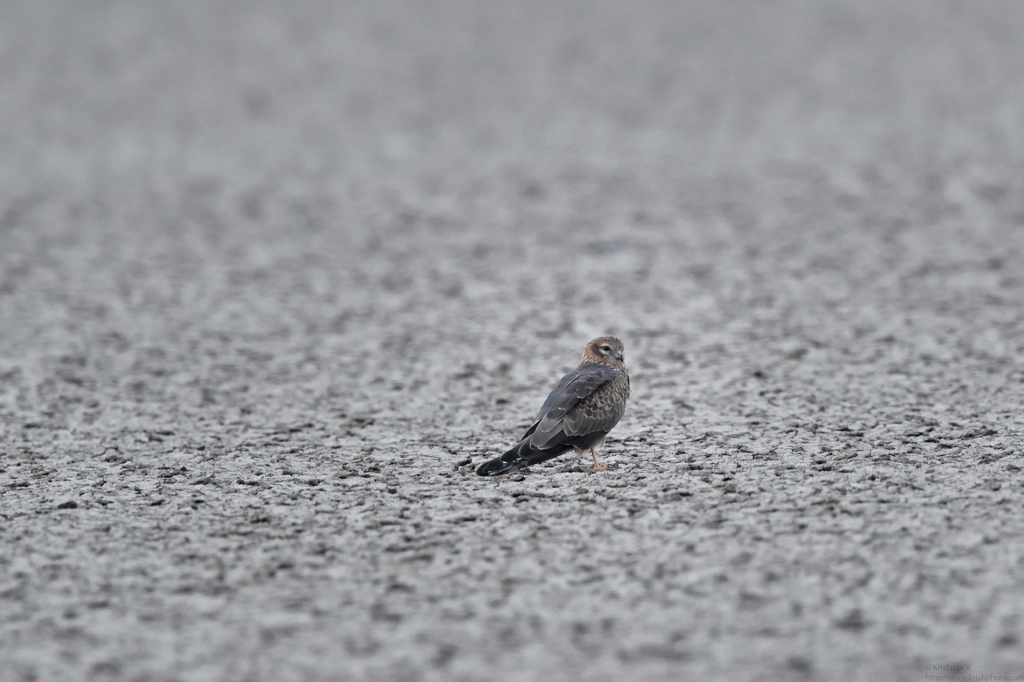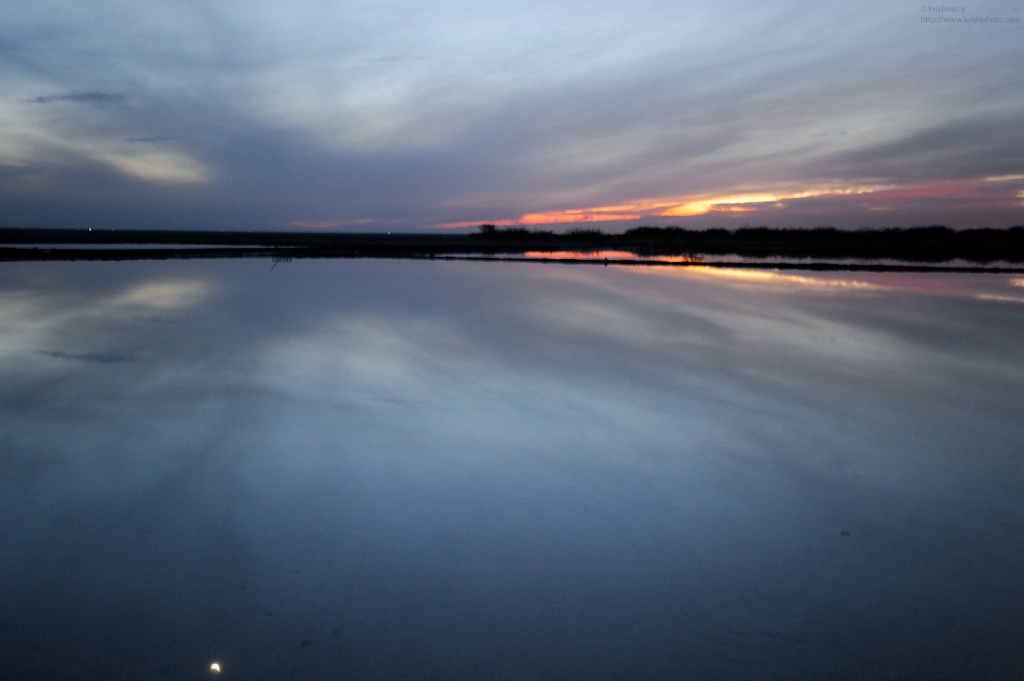 The nighjars are in the ground all day but are super hard to spot. Once in the spotlight, the freeze hence easy to photograph. I made Iqbal move the light so that the bird was lit with the softer light of the edge of the beam than the harsh beam centre. I lay down and took this ground shot with the D3 and 105mm . Super happy !
Syke's Nightjar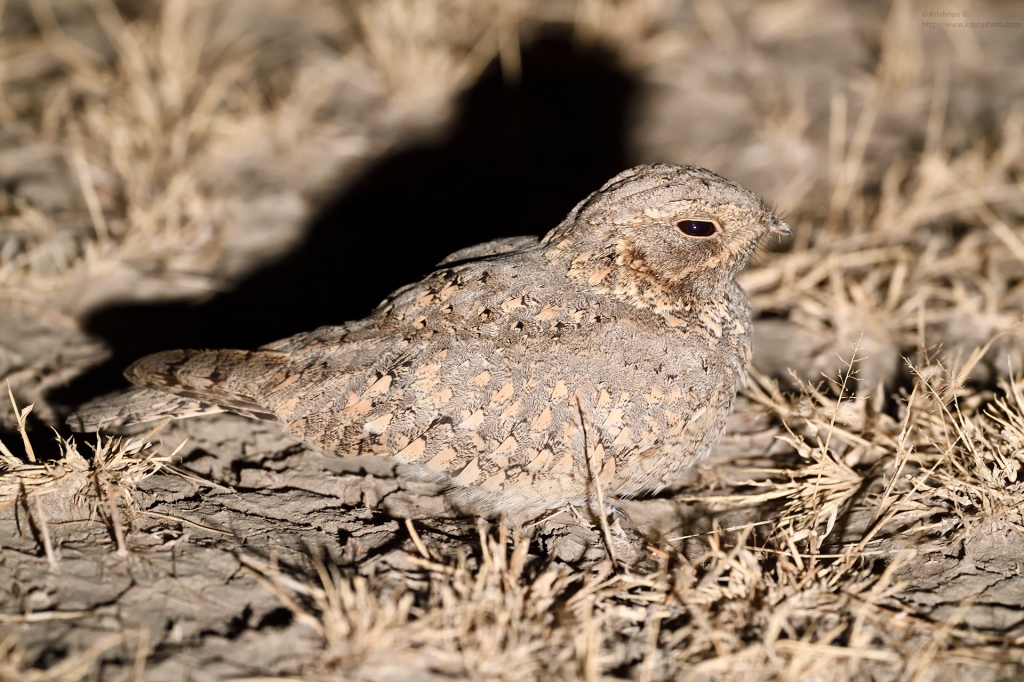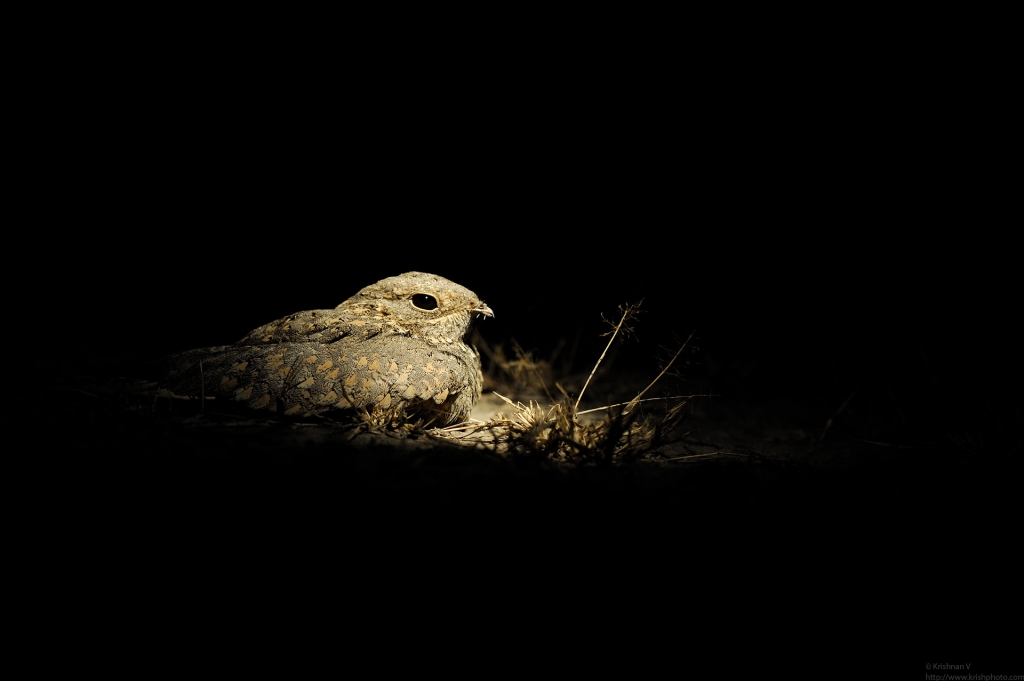 After we were done and moving back, we kept scouring the landscape with the spotlight for other animals. While Iqbal scoured the right of the jeep, Hardeep spotted a movement on the left and Iqbal quickly identified a fox on dead wild ass carcass. He swing the beam around and we tried to follow the fox. The fox weaved and dodged but Iqbal kept it on his spotlight all while driving the jeep. I first made a few shots with the 600 and then switched to the 105mm since, the 600mm was hard to line up in the fast moving, weaving jeep. Super spotting by Hardeep! The good mood was now very much back ! All it took was a fox chase 😉
The Indian Fox ( note the black on the tail) First one with the 600mm, other two 105mm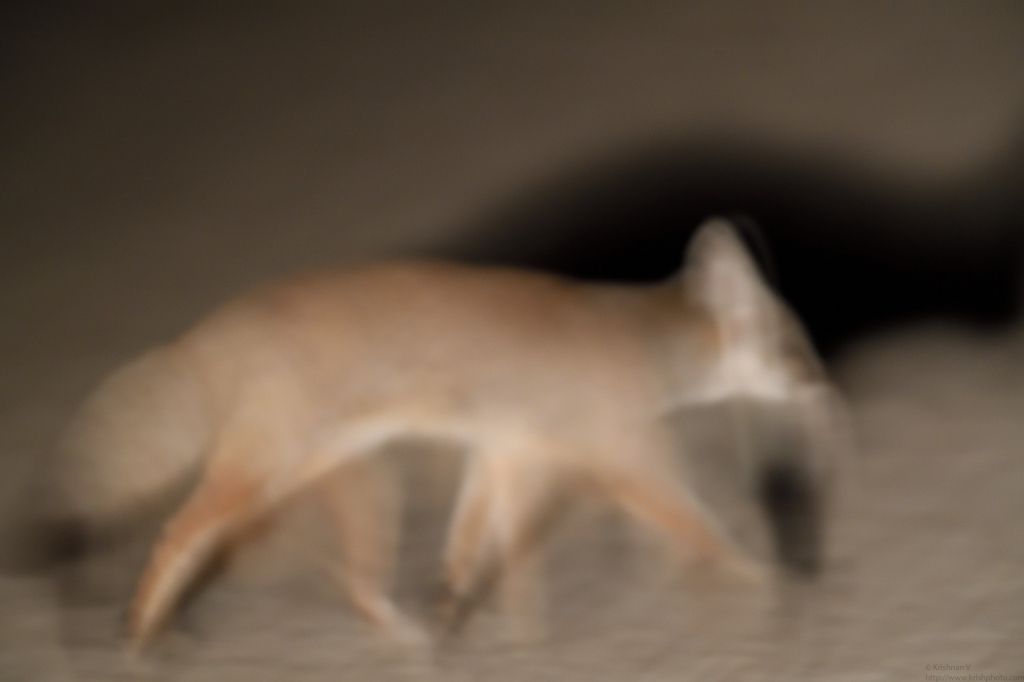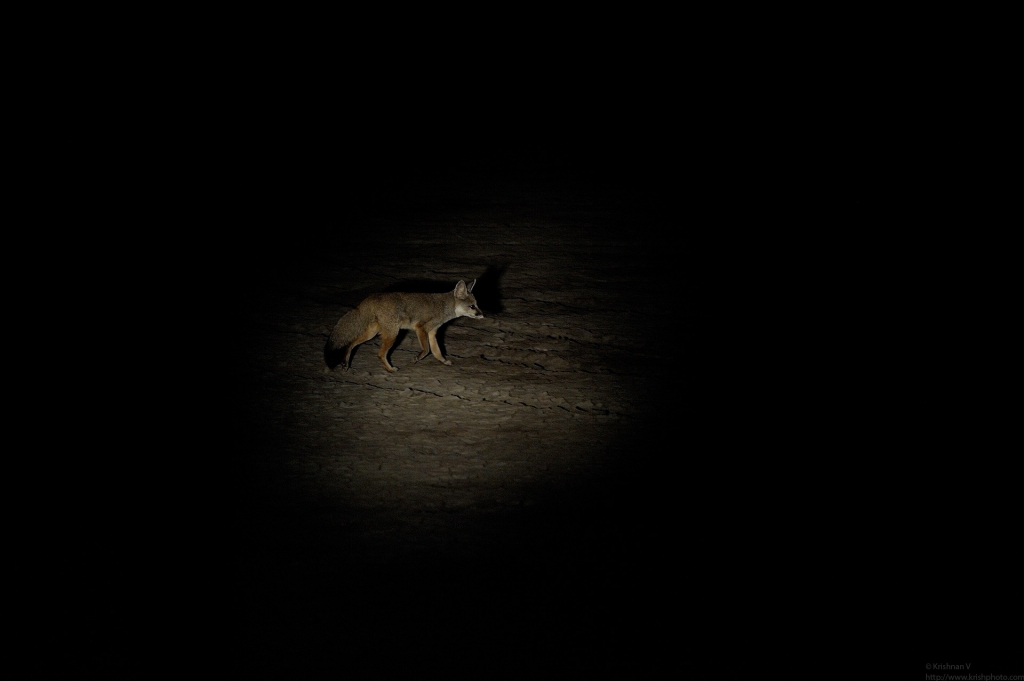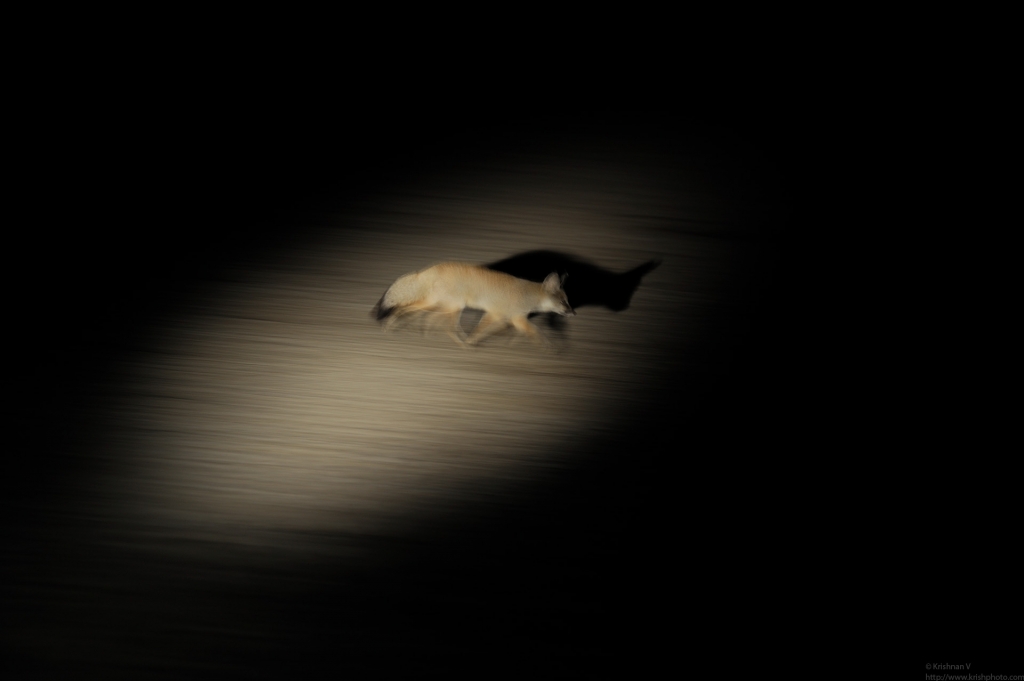 The next morning we again went out in search of the Macqueen's Bustard. We searched hard for over two hours, no sign of the bird. To see the bird up close, Iqbal mentioned we should come in October, which is just after it arrives after its migration from the west. Iqbal wouldn't give up, and he finally spotted two individuals. We followed them through the underbrush. They finally moved to the open Rann and we finally got a few "clean" shots. These birds are so well camouflaged that if they stay still , one can never spot them. Pretty far the birds were but, this would have to do for this trip !
The Macqueen's Bustard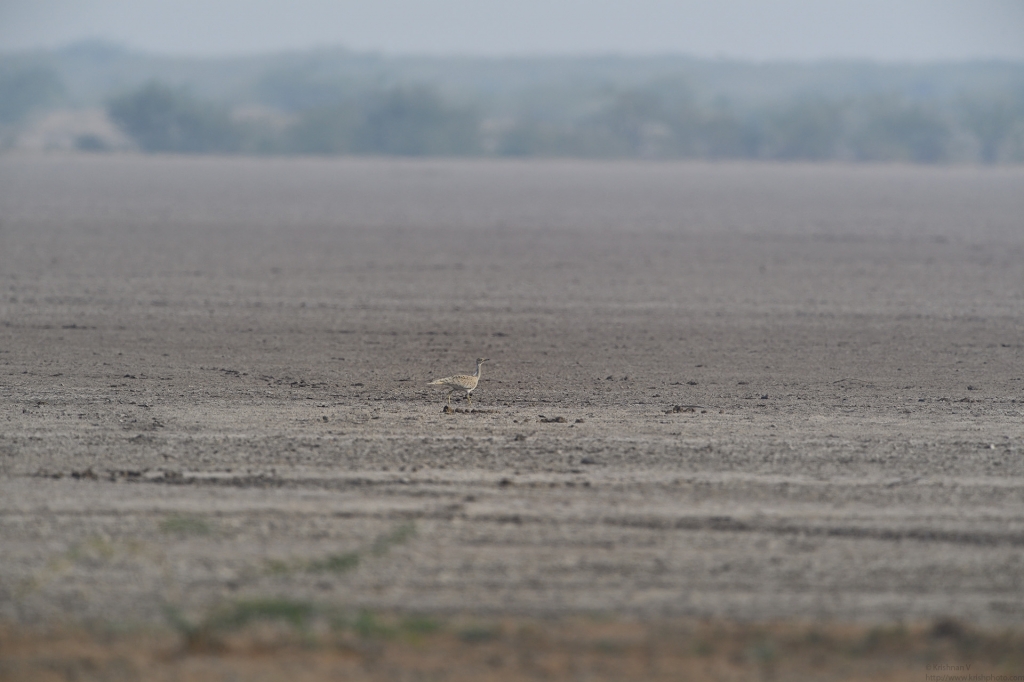 Scooting away

Bustard done, we stopped for breakfast. On the way back we looped via the Bajana wetlands. Too much water so not much activity. You can skip this location, at least in 2017-18 season. We then stopped at "Nava talao" where we spotted pelicans, spoonbills and various water birds. The light was quite harsh by now and it was approaching noon. Hence after a few record shots, we got back to camp.
Dalmatian pelican flight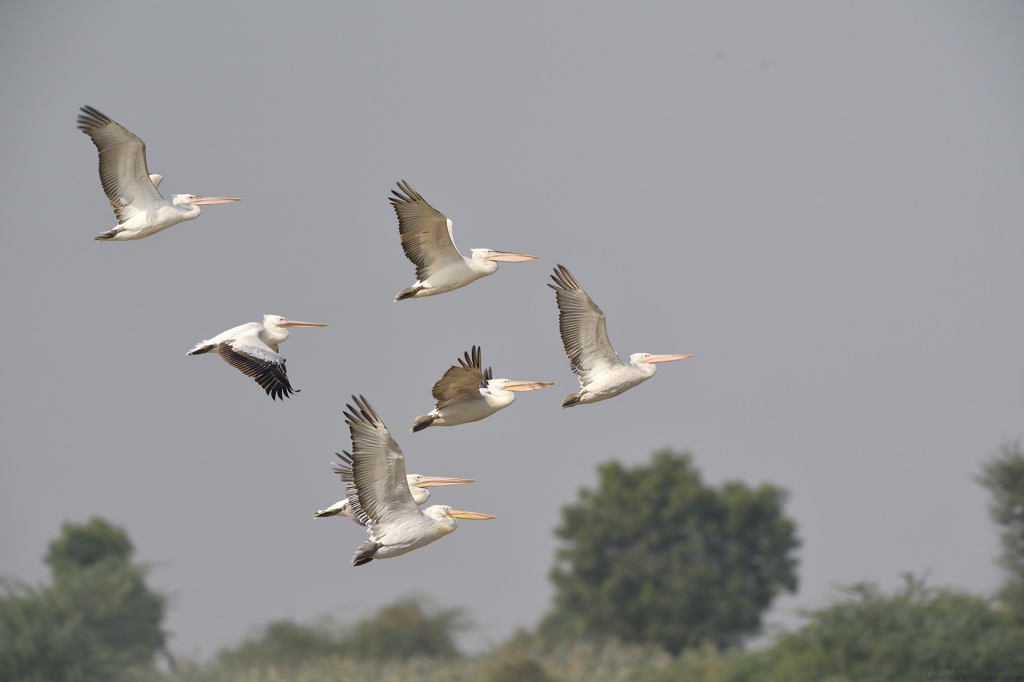 Three safaris down, we were bushed with the continuous driving and decided to take a break from safaris. We slept and lazed through the evening. Next morning after breakfast we would break camp and start out to Velavdar near Bhavnagar. Enroute, there was a chance of seeing the Indian Eagle owl. But, we still didn't have a contact for that. Dhanraj said he will help find out before we left the next morning.
Next morning at breakfast, Pinkita asked Dhanraj where he got his bird lapels that embellished his hat and Dhanraj naughtily said it was a secret!. Well the secret is now out. You can get a set of fifteen bird lapel pins here > http://shop.wwfindia.org/wwf-india-bird-lapel-pins-all.html 😉
Tips & Notes
1. For the Rann Wild Ass Santuary itself, two safaris are usually enough, one morning and one evening.
2. Nava talao and Bajana wetlands are best in the mornings. Id plan Day 1- Morning Rann, Evening Rann; Day 2- Morning Nava talao Evening Bajana wetlands. Be specific of target species for each safari. Mornings for wild ass & houbara bustard, evenings for Short eared owl & fox, another morning for water birds.
3. Rann is long lens territory. But you need a 70-200 for the mammals like fox and wild ass. A wide angle is good for landscapes.
4. Grab a towel or a wrap to protect the gear from the dust.
5. Need a bean bag. Most used. Tripods are handy too in some conditions since you can get down from the vehicles.
6. Macqueen's bustard, the best time to approach close is October, when they have just arrived from their migration.
7. Prepare for cold. Cover face & head from wind. Windbreaker much required.